Help Kids Learn to Love Nature by Loving It With Them
New Mexico guidebook will get you adventuring together
By Christina M. Selby
The following excerpts are from New Mexico Family Outdoor Adventure: An All-Ages Guide to Hiking, Camping, and Getting Outside by Christina M. Selby (Southwest Adventure Series, UNM Press, 2021).
The first time I went camping as the mother of a new family, my first son was about 6 months old. I spent most of the time in the tent nursing him and playing on the air mattress. We ventured out in the afternoon for a short hike along the creek, where we splashed around and ogled the colorful wildflowers. Other than that, we barely left the campsite. And yet, that was adventure enough at that moment of our lives.
Today, my two boys are 8 and 13 and variety is the name of the game. Now when we head out for an outdoor adventure, we choose a basecamp with easy access to hiking, biking, fishing, climbing, nature, and more to pique their interest. We still have those leisurely trips where we mostly sit around the campsite and play in the nearby creek, but we make sure to have options if the inspiration strikes (or to distract from digital device withdrawal).
We parents hope that our children will find beauty, health, and truth in the same things we have in our lives. My husband and I agree that spending time in nature is a good thing. And, just as we have the responsibility to feed our kids healthy meals and limit their screen time, we also have the responsibility to take them outside to keep their bodies healthy with recreation and to experience the wonder and awe of nature. We can only have faith that through the introduction we provide, they too will fall in love with nature and grow up working to live in harmony with it.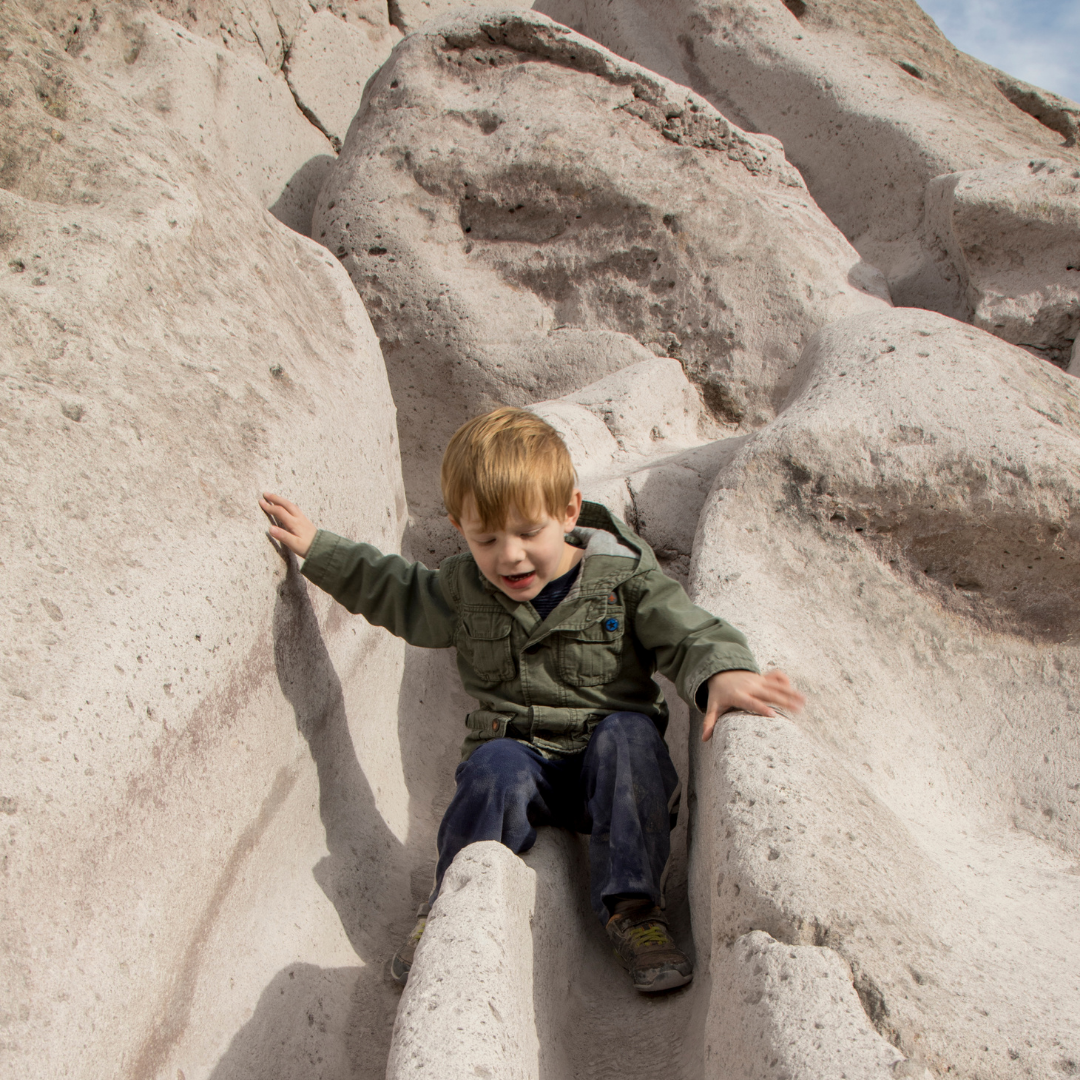 My husband is a gearhead, so he makes sure we have all the fun outdoor toys with us (bikes, fishing poles, campers, kayaks, etc.). I'm a naturalist, so I choose spots where we are likely to see the kind of flora and fauna whose beauty will bring us all to our knees. When we can find a place that brings those two things together, we know we've found family adventure gold. And there's plenty of gold to be found in New Mexico.
That's what I'm sharing with you here: the best of our adventures. This guide is not a comprehensive list of everything there is to do outside with a family in New Mexico. Instead, it is a curated guide to adventures, each with plenty of options for fun and opportunities to deepen your family's relationship to the natural world. We hope you enjoy time together in nature as much as we do!
The world our children face is different from the one we as parents grew up in. The next several generations will confront the dire environmental and climate challenges that have become front and center in today's world. One of the best ways to counter the despair and overwhelm that may come with the knowledge that our world is threatened is to spend time basking in the beauty of nature. In my experience, taking in the magic of a sunset, riding a bike on a dirt path, listening to an elk bugle in the woods, or finding an intricately decorated wildflower tucked into a forest inspires, refreshes, and calms my kids (and myself).
According to Richard Louv, author of Last Child in the Woods, the desire to connect with animals and plants is an innate need for kids. Providing children with rich and repeated experiences in nature throughout their childhood will help them develop a lifelong love and appreciation for the natural world.
How can parents cultivate a love for nature in their kids? Start with sharing your enthusiasm for being in nature, organizing your vacations around experiences in the outdoors, giving them some fun tools like binoculars and butterfly nets, playing outside, and discovering together what is right in front of us.
New Mexico Family Outdoor Adventure Guide describes adventures in nature across the state. Activities include both DIY adventures and those best led by an experienced outfitter. The guide is designed to appeal to parents traveling with children, families traveling with grandparents, and grandparents traveling with grandchildren.
Activities for families in New Mexico abound and include a mix of enjoying nature, learning about natural history, and adventure sports. Hiking, biking, paddling, horseback riding, water play, camping, skiing, sledding, rockhounding, wildlife watching, fishing, climbing, and outdoor cultural activities are all included.
All kids are different. Some kids like the outdoors, some kids don't. Some kids spend their time outdoors observing colors, sounds, and smells, interested by everything around them. Other kids stay in the car or tent playing with their phone and rarely notice their surroundings. So, if you want to enjoy family outdoor adventures, plan for the kids first. Family trips are about them first and only then about you. The key to a great trip is a healthy respect for the needs and interests of your children when exploring the outdoors. Below are some basic rules of thumb to make your trip fun and rewarding.
Natural wonders abound in New Mexico, encouraging kids to discover and explore nature throughout the state. All we really need to do as parents is open the doors and let them walk through.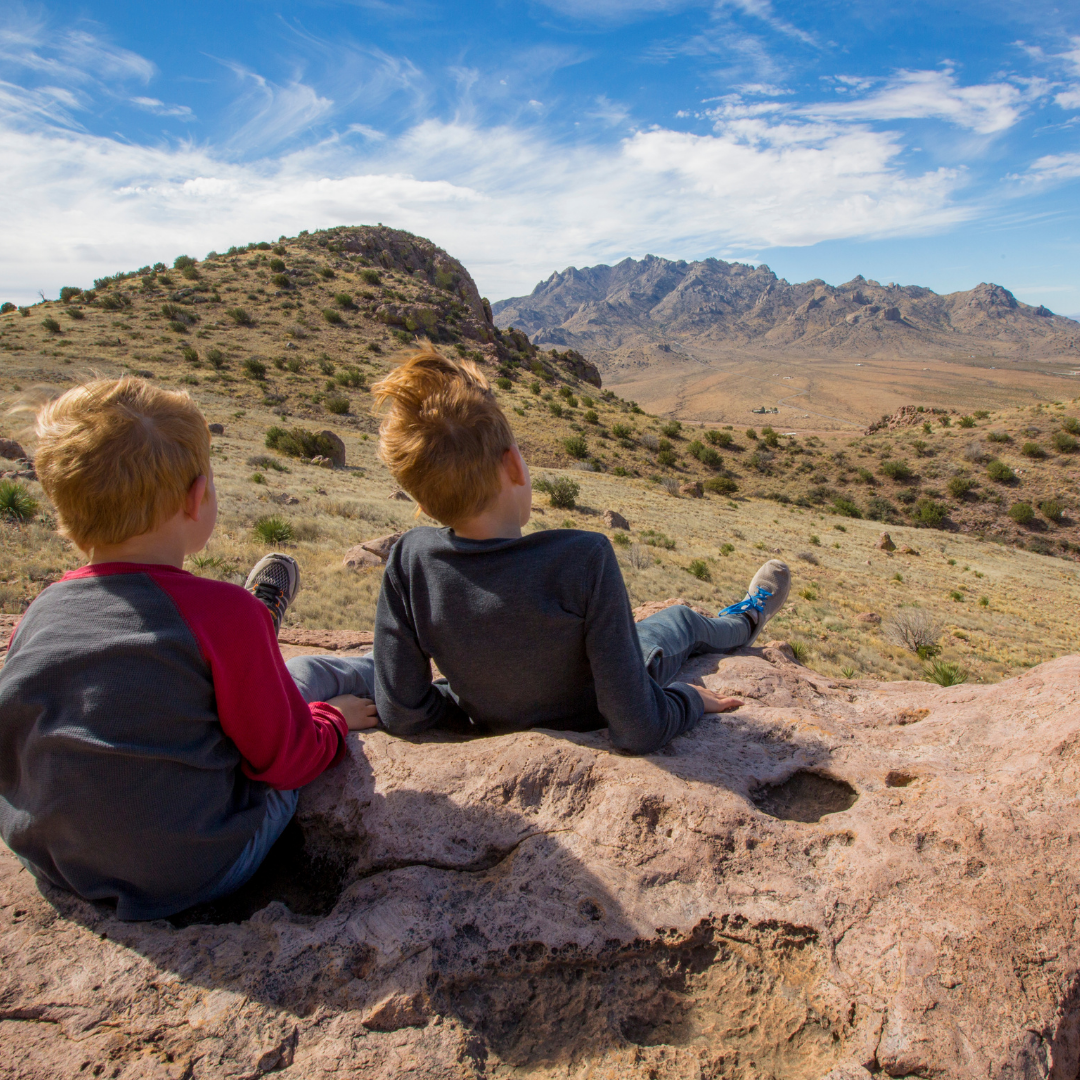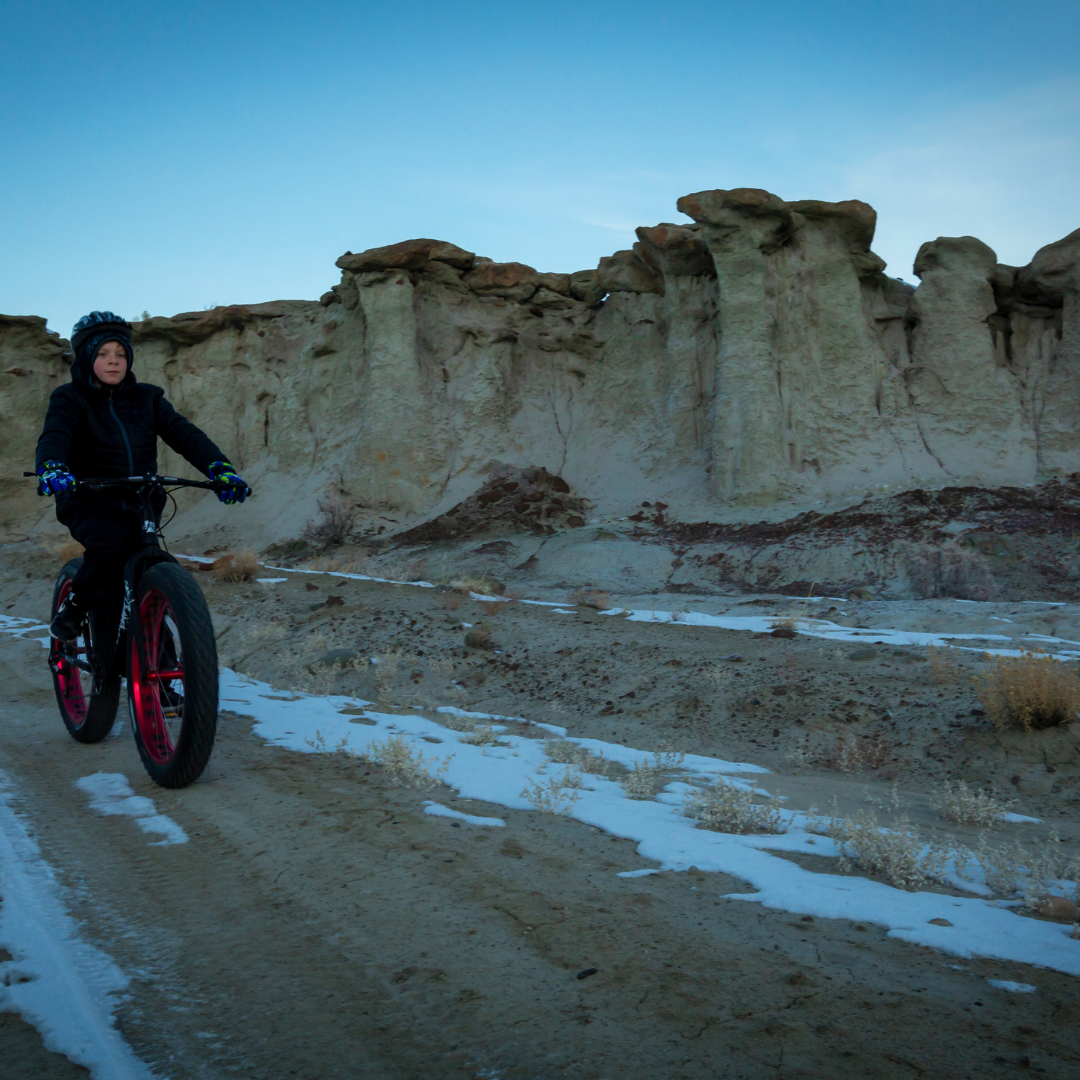 However, doing some research before you go to find out what wildflowers will likely be blooming, what wildlife you might see, or what minerals you might find can add a sense of discovery when you encounter them. Also, finding out ahead of time what hikes, biking trails, climbing routes, or paddling opportunities are appropriate for their skill levels will increase the likelihood that your time together outdoors will be a positive one. In this guide, I recommend many opportunities to both discover and play in nature.
Here are a couple of options to get you started exploring New Mexico with your family. 
Paddling
Imagine gliding across a glassy stretch of water reflecting puffy white clouds on a clear day, or tumbling through a narrow river canyon, your adrenaline racing from heart-pumping rapids. Paddling can be a fun, family-bonding activity, and with plenty of flat water and whitewater, New Mexico has something for all skill and adventure levels.
Getting Started With Kids
For your first paddling adventures, choose a small, calm body of water, such as lakes or ponds with little or no powerboat traffic. Also find a gently sloping sandy beach to launch as steep, mucky, and rocky shorelines will be more challenging to approach the water. The ideal day is sunny and windless, but if it's breezy, start out by paddling into the wind. When you're tired on your way back, paddling into a headwind is a struggle; paddling with a tailwind is a breeze.
Your first time out, plan on an outing, not an expedition. By keeping your paddling time under two hours, you'll avoid fatigue overshadowing the fun. Many outfitters offer kayaks and canoes for rent so you don't have to buy when trying out the sport. To hone your skills and boost your confidence, sign up for a tour, class, or private lessons with an outfitter.
To find out more about where and when to go paddling in and around New Mexico State Parks, visit the website www.emnrd.state.nm.us/SPD.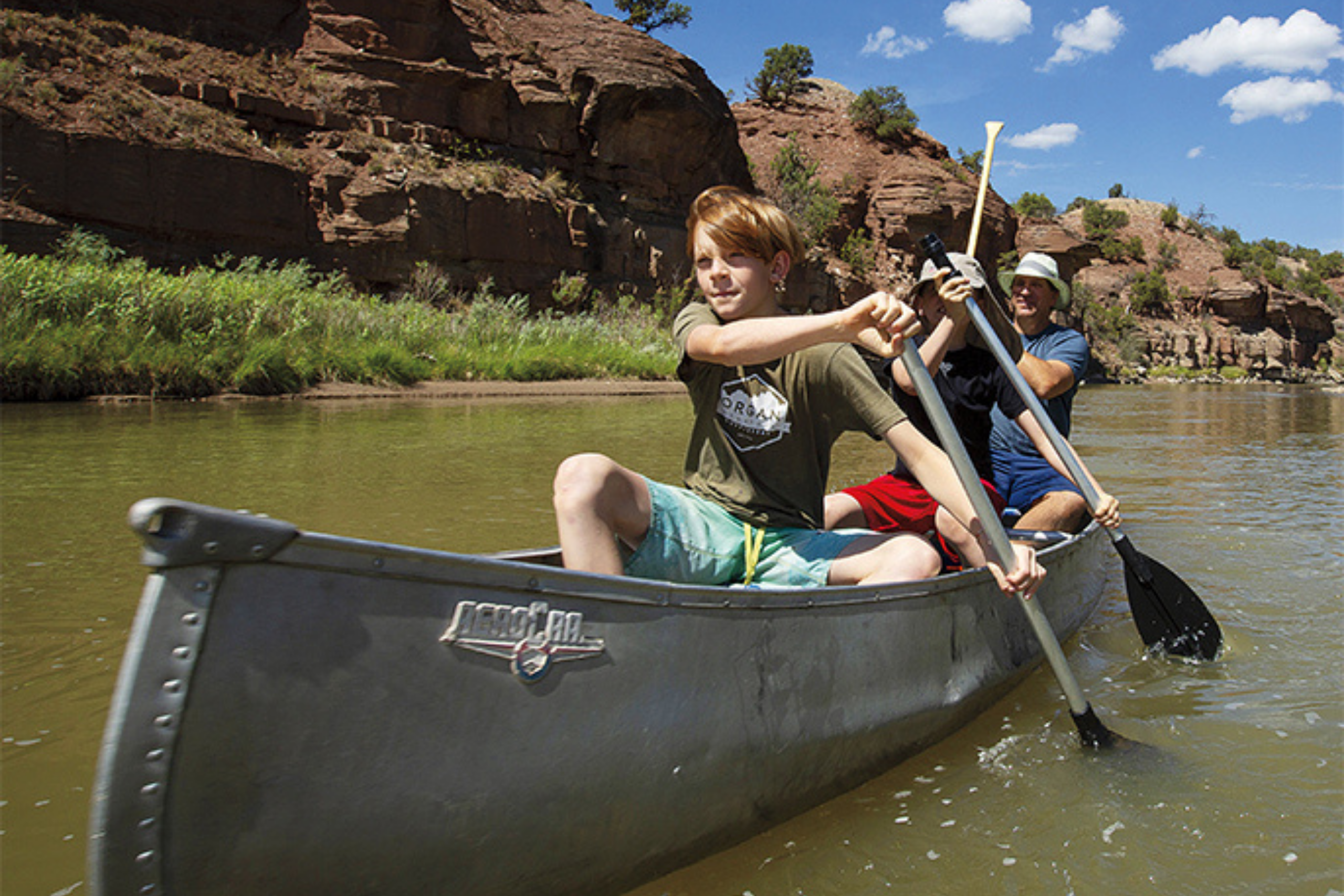 Best Paddling Adventures With Kids
Rafting the Rio Grande, Orilla Verde (page 37)

Fenton Lake State Park (page 63)

Float the Middle Rio Grande (page 72)

Rafting the Rio Chama (page 80)

Heron Lake State Park (page 86)

Sugarite Canyon State Park, Lake Maloya (page 97)

Snow Lake/Gila National Forest (page 151)
Explore New Mexico's Badlands
Bisti/De-Na-Zin Wilderness Area
Nearest Town: Farmington
Best Season to Visit: Spring and fall
Visitor Information: No amenities or water available in the area; bring with you everything you need. When it rains, the ground turns into deep mud and rushing creeks.
Getting There: To reach the Bisti Access Parking Area, drive NM 371 just under 36 miles south of Farmington and turn east on Road 7297 (a gravel road). Drive Road 7297 for approximately 2 miles to a T-intersection and turn left. Drive just under 1 mile to the Bisti Access Parking Area, which is just south of a broad wash on the east side of the road. There is another, smaller parking area a quarter of a mile farther north.
Hoodoos, labyrinths, petrified trees, dinosaur eggs, arches, and spires converge to create an otherworldly desert landscape that is the Bisti Badlands. After setting up camp in the primitive parking lot, we passed through the fence and set out to explore this strange land. No official trails exist in this 45,000-acre wilderness. Navigate by following the general direction of the wash in and out.
We hiked for a while under a cloudless, blue sky, admiring a rainbow of earth toned rock and mud revealing strange forms as we approached. We crested a tall clay hill and looked down upon a maze of valleys, narrow canyons, small caves, and sculpted rocks. My boys' eyes grew wide and we all agreed — this was an epic location for a game of hide and seek. For several hours we scrambled, hid, slid, and clambered around. We emerged dirty, tired, and happy and hiked out of the fantasy moonscape hungry for dinner.
Adventure-loving families will enjoy a day or two in the Bisti (pronounced "beestie"). Once a coastal swamp of an inland sea that was home to many large trees, reptiles, dinosaurs, and primitive mammals, much of the area is now devoid of vegetation and animal residents. It's the rocks and shapes that provide hours of entertainment and interest. Hike up the wash about 2 miles to reach the dinosaur eggs, rocks that look like cracked-open eggs covered in sinuous patterns. Near to the eggs, also find giant logs of petrified wood resting on eroded mud platforms. Follow canyons to find endless galleries of caprocks and hoodoos. If you want to aim for seeing specific features in the wilderness area, I highly recommend a thorough internet search beforehand and GPS in hand.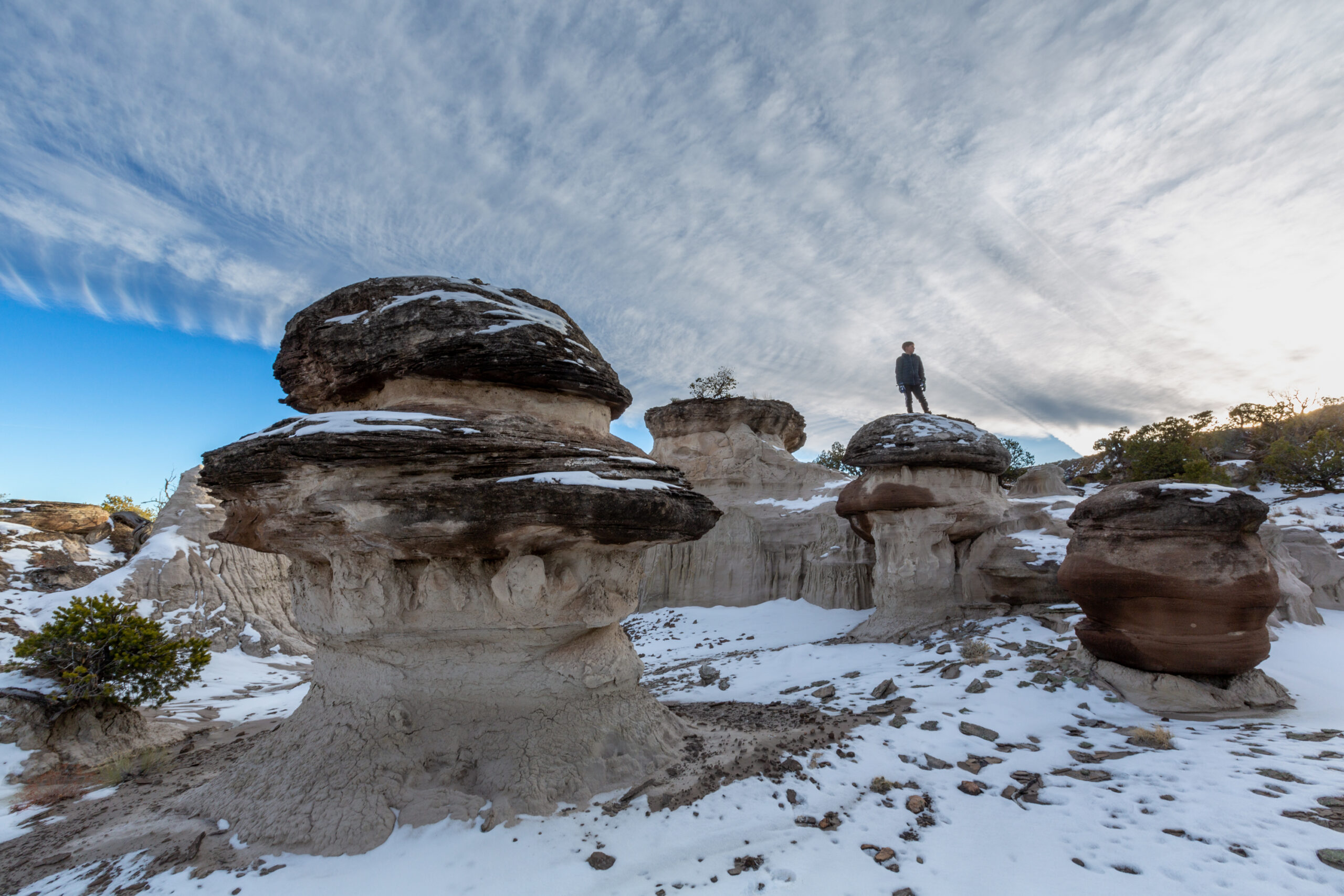 More Badlands
While Bisti is the best-known of northwest New Mexico's badlands, there are several others that are worthy of a visit.
Angel Peak Scenic Area overlooks 10,000 acres of rugged, scenic landscape. Short hikes from picnic areas and the small campground provide views of the area's stunning features, like Angel Peak and the Castle. Sunrise and sunset are especially scenic here. Dirt roads on the outskirts of Bloomfield provide access to the Kutz Canyon badlands below. 
Getting There: Drive in on Road 7175 off of US 550, about 20 miles south of Bloomfield.
Ah-Shi-Sle-Pah Wilderness Study Area offers more spectacular geologic formations to
explore on unmarked hikes. Of special note are the Alien Throne, King of Wings, and Valley of Dreams formations.
Getting There: On US 550, 7.5 miles northwest of Nageezi along NM 57.
Christina M. Selby is a freelance conservation writer, photographer and guide, based in Santa Fe. She is also the author of Best Wildflower Hikes New Mexico (Falcon Guides, 2020). New Mexico Family Adventures is available through local bookstores or online.