Baile de Cascarones Adds Sparkle to Spring
This New Mexico festivity is colorful, crunchy, confetti-filled fun.
The Land of Enchantment is full of unique traditions with deep historic roots, kept alive by generations of New Mexicans. One of the most colorful traditions (literally) is El Baile de los Cascarones, or dance of confetti-filled eggshells (which somehow doesn't quite have the same ring to it when translated to English). The cascaron has long been a symbol of happiness, friendship and life, associated with the welcoming of spring. For many generations of Catholic New Mexicans, the festive dance also has a deep, spiritual meaning and is performed in celebration of Easter. 
El Baile de los Cascarones was historically held the week after Easter as a way to celebrate the end of the 40-day Lenten season, a time of very little social activity for the Catholics of the state. Many abstained from dancing, drinking and other activities, and also did not consume meat. Instead, they substituted it with lots and lots of eggs. Fried, scrambled, poached, in a salad, in a burrito — you name it, they ate it. As Easter approached, households stockpiled whole eggshells in preparation for the big dance.
Eggshells were emptied of their contents by piercing two small holes on either end, using something like a sewing needle or small nail, then gently blowing out the contents. Shells were then carefully washed, air-dried, delicately (and I'm sure painstakingly) filled with home-made confetti, and elaborately decorated. By the date of the dance, dozens and dozens of cascarones were ready for the occasion. At the dance the eggs were used as decorations, placed on tables as centerpieces and in baskets throughout the hall. However, the real fun was found in smashing the eggs over someone's head (hopefully gently) as an invitation to dance. You can imagine the hall by the end of the evening, a colorful, crunchy mess and everyone showered in confetti! 
While the exact origin of this vibrant custom is uncertain, many credit Italian merchant and explorer Marco Polo with bringing the paper-filled eggs back to Italy from China, where he had spent significant time traveling the Silk Road during the late 13th century. 
He reported witnessing eggs being filled with perfume and scented powder and used in festive displays and ceremony. With much of Europe embarking on an "Age of Exploration" and expanding westward, the tradition traveled quickly, making its way from Italy to France to Austria and eventually to Spain. From there (you guessed it) the custom made its way into Mexico, reportedly with the wife of Emperor Maximilian I in the 1860s. Eventually, the jubilant eggshells found their way to New Mexico and other parts of the Southwest, where the Cascarones tradition is still celebrated today.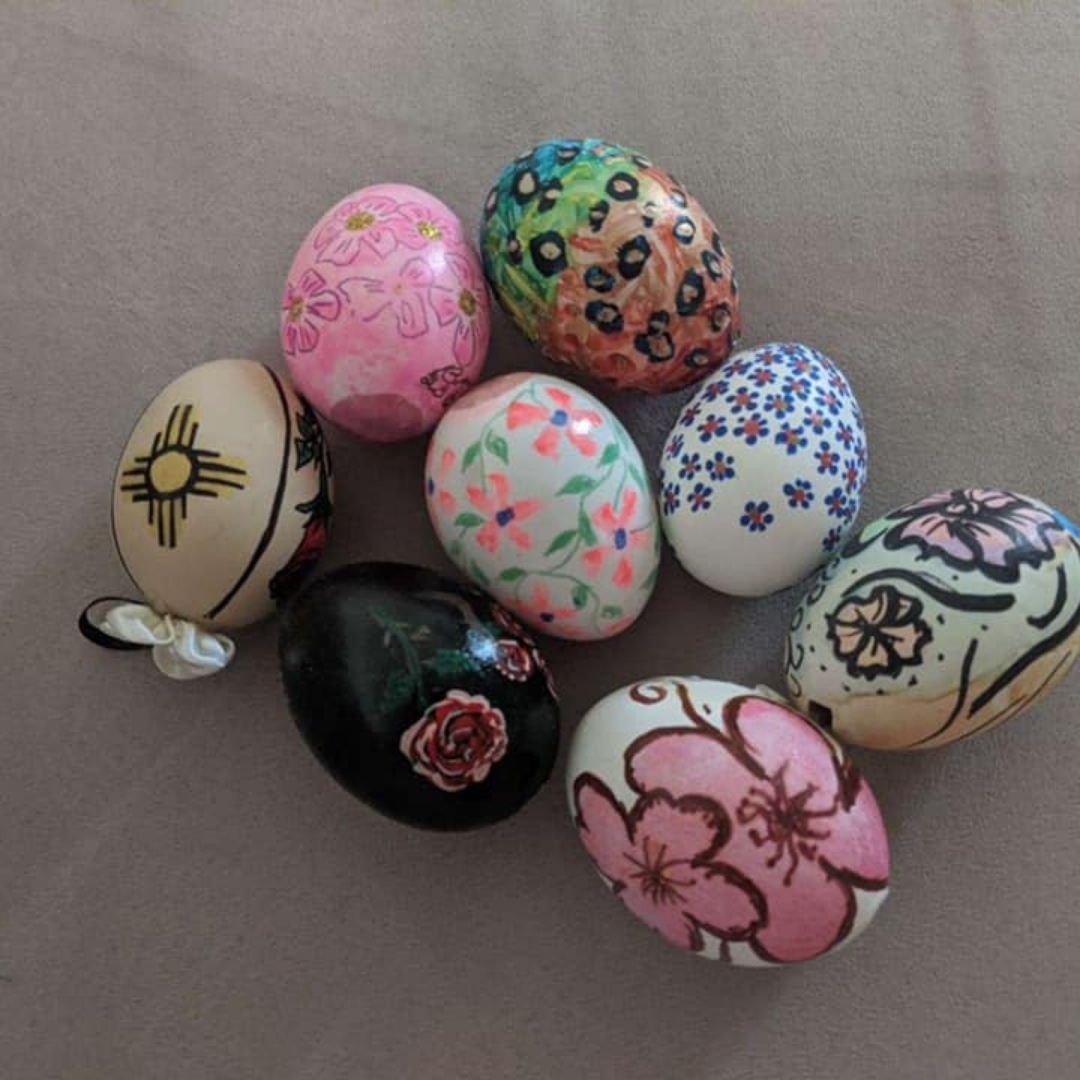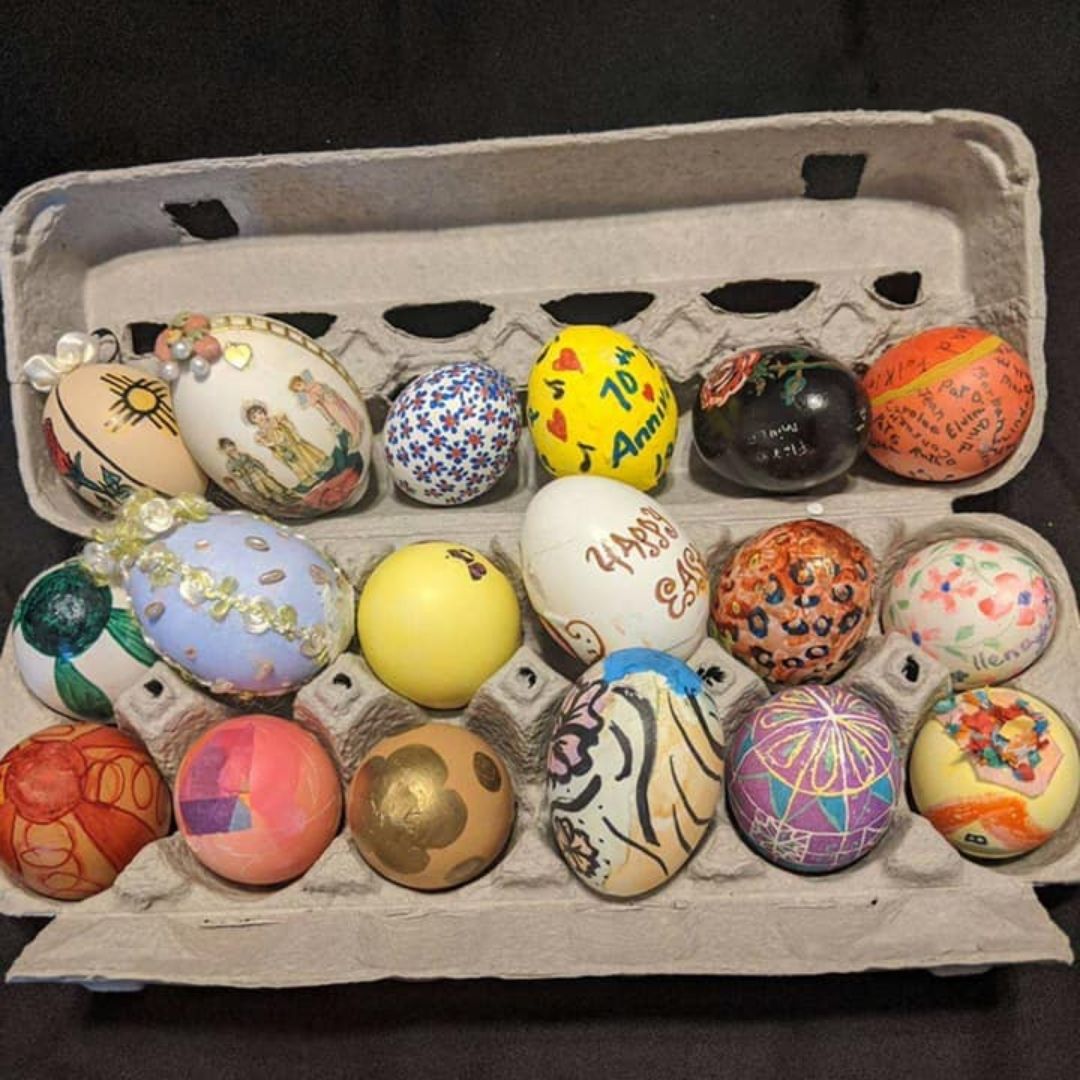 Not unlike other cultural pastimes, El Baile de los Cascarones is not as common as it once was. Fortunately, New Mexico has a deep connection to its history and a strong will to preserve it. Community organizations like La Sociedad Folklórica de Nuevo México (based in Santa Fe) for example, has kept this tradition and others alive since their founding in 1935. They began a movement to "[collect, preserve and pass on the knowledge of the customs and traditions of our ancestors to younger generations and to the general public]." In years past the group has hosted this springtime tradition, often using more than 1,000 eggs! Accompanied by traditional New Mexican folk songs, this event is something right out of a history book. 
Today, I think we can all relate to the feeling of waiting, eager for the day we can all return to enjoy social activities within our communities. In the meantime, how about making some cascarones with the family? 
First, plan a delicious meal or dessert that you can all make together that requires eggs (so they don't go to waste). Then gather your decorating supplies: an egg-coloring kit, markers, nontoxic craft paint, stickers, glitter, etc. Oh, and don't forget the confetti. You can make your own, but I suggest taking advantage of the modern world and buying pre-made. Make sure the pieces are small! Poke, empty, rinse and dry your eggs. Let set at least a day to make sure inside is dry. Stuff with confetti. Seal opening (a sticker is a cute way to do this), decorate and have some fun. Make sure to consider the clean-up! 
For more New Mexico history bits, check out El Rancho de las Golondrinas, Santa Fe's Premiere Living History Museum, where you can subscribe to their newsletter, or find them on Facebook and Instagram. Subscribe to the "Las Golondrinas Channel" on YouTube for videos featuring historic life ways, and make sure to stop by and take a trip into the past when the museum resumes operations and get your hands on history!