The Big Read Puts Us in Immigrants' Shoes
Library program invites Santa Fe to read, talk and learn together.
Santa Fe Public Library, through a grant from the National Endowment Through the Arts, is sponsoring a series of programs called The Big Read, which kicked off in February and will continue through April. The Big Read broadens our understanding of our world, our communities and ourselves through the joy of sharing a good book, selected from a list provided by the NEA, with ancillary events inspired by the book.
The book chosen by library staff is Into the Beautiful North by Luis Alberto Urrea, geared for teens and adults; however, there are several other books for all ages that can accent the themes of Urrea's book. We at the library hope you, our community, will read one of the featured books and talk about it.
Travel, immigration, migration, adjusting to new cultures and understanding the life that surrounds us are themes central to The Big Read. You can find a list of those books in the NEA Big Read page in the Santa Fe Public Library catalog, with recommendations for adults, youth and children. Programs will consist of take-home craft activities for children, online author visits, story time that will travel to Meow Wolf, and many more activities. Go to the library's calendar for updates on events.
​
Of the many books that deserve to be read, here are just a few: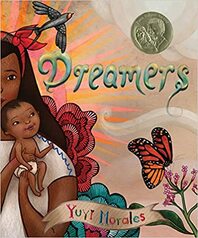 Dreamers
by Yuyi Morales (Neal Porter Books, 2018). Ages 3 to 7.
​Beautifully written and illustrated by Yuyi Morales, this book is something of the story of Yuyi herself and perhaps many immigrants to the United States. It has the feel of magical realism, which often emanates from literature south of U.S. borders. The protagonist shares the bewilderment of living in a new country, dealing with unexpected rules and regulations and discovering the magic of public libraries.
An artist does not answer every question but leaves the door open for speculation. Yuyi, true to her artistic soul, gives families a chance to talk about what they see in each illustration. She begs adult readers to ask young ones, "What do you think is happening in this picture?"
A crowning moment in the story is when Yuyi discovers libraries. She writes, "One of the most important things I learned at the library is that through books we can find our path and our purpose." Ask your children, "What does a book mean to you?" Books and libraries are still here and available! Go to the Santa Fe Public Library's website for information on Yuyi's live/online speaking engagement.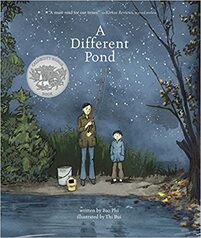 A Different Pond
by Phi Bao (Capstone Young Readers, 2017). Ages 5 to 9.
​I am old enough to remember the Vietnamese refugees at the end of the Vietnam War. I do not know all the details, but after the U.S. lost the Vietnamese war, many natives of Vietnam fled by boat. Some made their way to the U.S., including to the little town where I grew up, a flat, dry, windy, freezing cold in the winter and blistering hot in the summer type of place. Now that I am older, particularly after reading A Different Pond, I can imagine with better understanding how very foreign this place was compared to the lush green environment of Vietnam. 
A Different Pond tells the story of a boy and his father, a refugee in the U.S. after the Vietnam War. The father and son fish, not for sport, but for food in the Great Lakes. They talk about life in Vietnam, life in the U.S and a father who works two jobs. The author later said he wanted to tell a story he could identify with. I think that is true for many people. If you were to tell your story, the story of your family or where you come from, what story would you tell? Give it a try!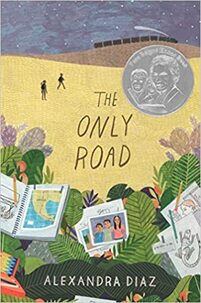 The Only Road
by Alexandra Diaz (Simon & Schuster/Paula Wiseman Books Reprint 2017). Ages 12 to 15.
​This book made my hands sore. It was so intense I gripped the edges of the pages with white knuckles. It follows the journey of Jaime, age 12, and his cousin, 15-year-old Angela. 
Jaime and Angela were forced to leave their native Guatemala due to gang violence. In the U.S., we hear hints of this, but Diaz gives us a brutal picture of what our neighbors in Central America must endure. 
Jaime and Angela are undocumented travelers living in a gritty journey of fear, danger and hunger as they travel across Mexico. It is a journey they undertook having only known the loving memory of their extended family and haunted by the recent murder of Angela's brother Miguel, who is Jaime's cousin. Every turn of the page is filled with images such as family gatherings of celebration and agonizing heartbreak; a hard-edged, cigarette-smoking priest wearing Bermuda shorts but with a heart of gold; a godfather-like smuggler of humans; daring, fast-talking boys fresh to manhood; and girls disguised as boys. Yes, the author lets the reader know, as age-appropriately as possible, what happens to captured women and girls during these journeys.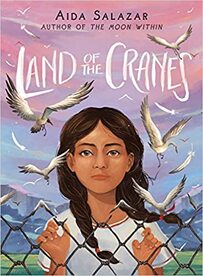 ​Land of the Cranes
by Aida Salazar (Scholastic Press, 2020). Ages mature 11 to 14.
​Land of Cranes tells a story through the eyes of 9-year-old Betita who is caught up in the immigration system. It is one of those books that is difficult to classify into age groups. Youth usually prefer to read about other youth who are their age or slightly older. This book tells a story, while well written and certainly worthy for sharing, that deals with horrific subjects no 9-year-old should deal with. In some respects, it reminds me of the book I Never Saw Another Butterfly, which is the poems and drawing of children in a Holocaust concentration camp. They, like Betita, were very much aware of the dark cloud that loomed above them.
Betita has an established life with loving parents on the West Coast of the U.S. But they are discovered, their father is separated from them and the family is sent to a detention camp. While the realities of the camp are cruel, Betita finds solace in poetry, fellow detainees and her mother. She lives with ever-present wonder about her absent father and the unborn baby her mother is carrying. Again, this story deals with women, girls and abuse.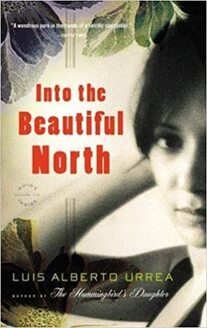 ​Into the Beautiful North
by Luis Alberto Urrea (Back Bay Books, 2010). Ages teens and adults.
​Publishers and librarians classify this book as adult, and it is a five-star read for adults but equally stellar for young adults. It tells the story of Nayelli, who is fresh from completing public school education. Nayelli, along with a small group of friends, comes to realize her village is losing its young men, and the men, in turn, are being replaced by gangs. Men are migrating north, into Los Estados Unidos, for work. Nayelli and her fellow party, is sent by the town mayor, the loud, rancorous but well-meaning and smart to boot Tia Irma, to bring back men.
With very little money, no passports and no experience outside of their own small community, the heroes set foot. The journey takes them from a seaside climate that gives life to tropical fruits, to the desert lands of creosote and cactus, to the communities living in the dumps of Tijuana, to the freeways and immigrant camps of the U.S.
It is difficult if not nearly impossible to depict a story about immigration with stark realism while simultaneously holding hands with humor. Urrea pulls it off with finesse. You, the reader, will be there, you will understand an undocumented traveler's journey, and you will come to know the experience of crawling underneath that fence.