Embracing the Safe Outdoors
Don't let winter keep you cooped up in places where viruses thrive.
Over the last two trying years, I've often remarked how fortunate I feel that my family and friends are already enthralled with the safest place to be: outside. In the open, clean, blue-sky air of Northern New Mexico amid the Sangre de Cristos, we feel OK to gather. We can easily distance while still being in one another's presence, and we can give our hearts and lungs a challenge. In fact, our love of being outside has only grown, perhaps because we had to limit our behaviors in countless other ways.
As winter begins, most people will spend more time indoors, where viruses thrive. I urge the opposite: Embrace the colder, shorter days, the promise of precipitation, and the thrill of planning ahead to make sure your family and friends are active outdoors.
Up at the Basin
Early mornings and weekdays last winter, we took advantage of Ski Santa Fe's generous uphill access policy. Hoofing it up with your snow conveyance of choice on your back is an exhilarating workout with the beautiful reward of topping out at the Super Chief (Quad) or Tesuque Peak (Triple) lifts on your own steam. Give yourselves an hour or more, depending. Remain on the fringes up Lower (green) to Upper Broadway (brief black) runs, and then on to Saddle (blue) and Gayway (blue) runs. Beware of folks descending. Choose your one glorious shoosh down. 
For a mellower twist, we checked the entertainment schedule and planned an excursion around a band we wanted to see perform at Totemoff's Bar & Grill. After a lazy 11-ish arrival (you can find parking in the top lot at this time!), we'd climb the Sunnyside (green) run to the deck for lunch. You'll be warm from the nice walk, see all of your other friends during their ski-day intermission, and groove to great local music in the sunny belly of our beloved mountain.
If that canyon has you enchanted, consider sledding at Hyde Memorial State Park. The sled run ($5 day use fee) is open daily when conditions allow, and my advice is to make sure the conditions are ample because this run has a very healthy pitch. Another spot is Black Canyon Campground. The kids would find any little rise, scramble up, and then slide down. The adults and dogs loved the 1.6-mile loop on the trail of the same name (snowshoes or cross-country skis depending). Oh, and look out for announcements about the Santa Fe Striders Snowshoe Classic. Due to the pandemic, the "race" was a self-timed, self-completion deal last winter, but we entered, participated and had a blast. Beginning at the Big Tesuque Campground, the course is a well-marked 6 kilometers.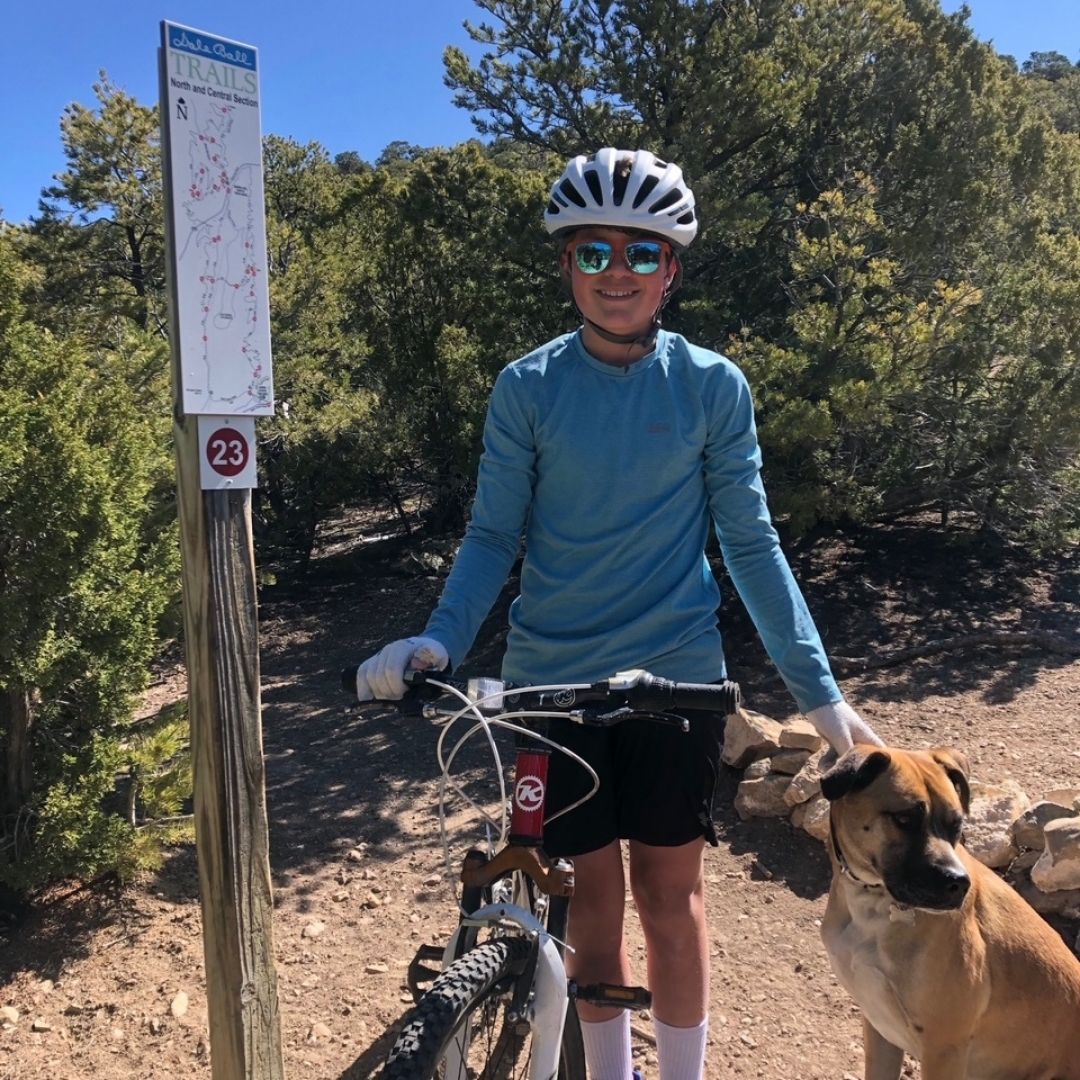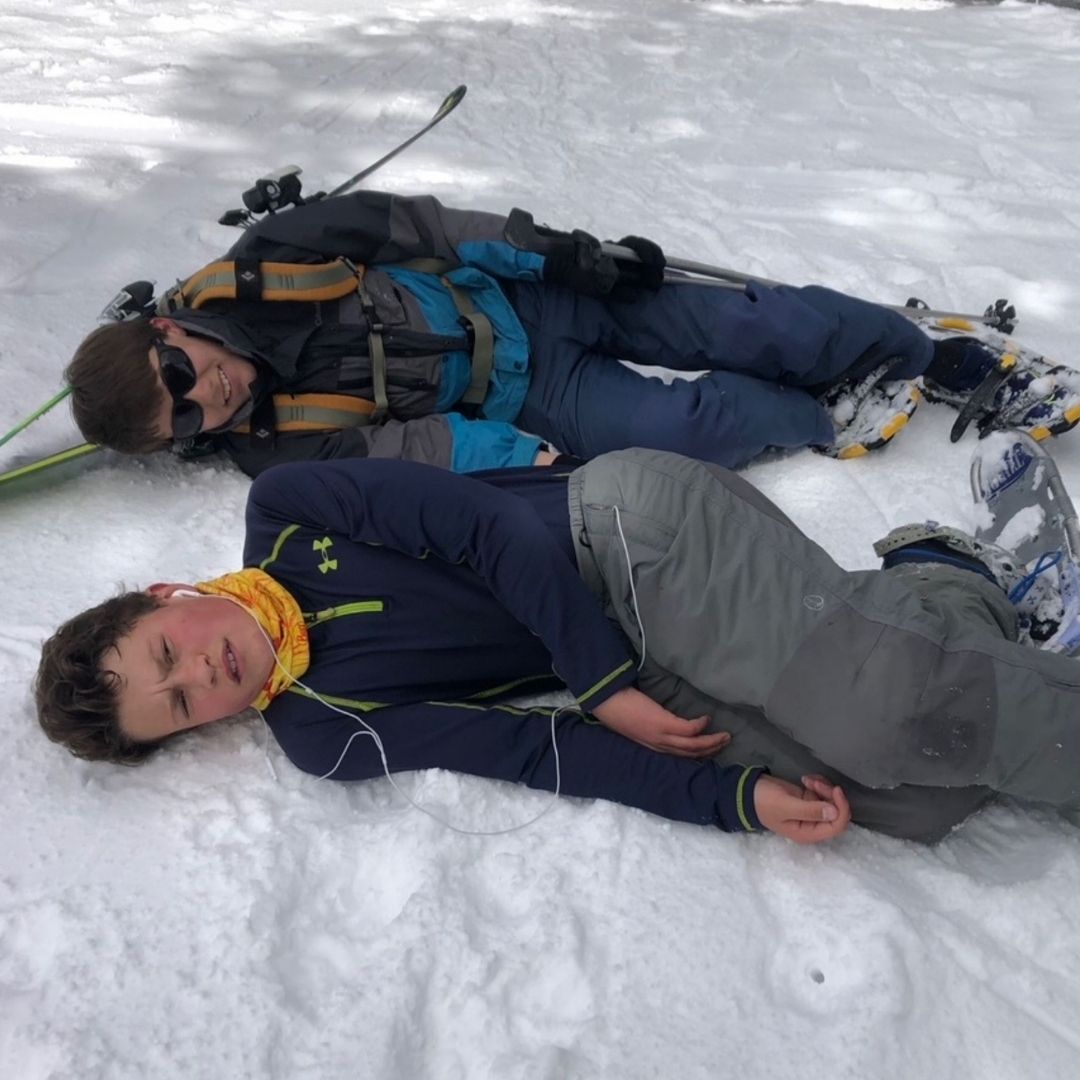 North on 25
On milder winter days, of which we may see more this La Niña winter, we had great adventures on our mountain bikes at the Galisteo Basin Preserve. We were among the first to try the newest trail, Brent's Bon Temps, named, like most trails, in honor of one of the many designers and builders. Easily navigable, this trove of varied-level traildom with Ortiz Mountain vistas is in perfect condition. We love the Cowboy Shack Trailhead parking lot for its convenience. Be prepared for some wind and bring lots of water. It's great for hiking, too. 
Farther along I-25, there is another of our mild winter day destinations for biking — the trails at the private Glorieta Adventure Camps. Kindly, they offer public access to 20 miles of green, blue and black mountain biking and hiking trails. Our favorite is the newly constructed moderate Cairn Me Up. The views of the Sangre de Cristo Mountains and Glorieta Baldy are nonpareil! Parking is at the Baptist Bypass Trailhead. 
Pecos National Historical Park is out in this direction with several interpretive shortish loop trails, including the Glorieta Battlefield Trail. It's a great day trip for your resident history buff; unfortunately, we couldn't get our crew interested in that type of adventures. 
The 'Relief Route' of 599 
We live in Casa Solana, so a quick jaunt gets us over to 599 and the gems in this area. The out-and-back Diablo Canyon Recreation Area offers a trusty and glorious winter walk on a sunny day. Our group never seemed to hike the same route twice, and never tired of seeing folks climbing the basalt canyon walls. Last winter, we brought our disc golf discs and got competitive, choosing a distant spot and seeing how many tosses it took each of us to reach it. We made it all the way to the river before we knew it — about a 6-mile, easy-to-moderate round-trip walk. 
Closer to town is the expansive 25-mile system of La Tierra Trails, which are great for biking with fun pump tracks and jump courses, but also great for walks. It's reasonable to expect that these trails will be dry-ish for a good portion of the winter. We typically park at Cuchara for convenience, but Calabasas and Frijoles offer excellent access, too. The first few months of the pandemic, our kids spent nearly every afternoon here, so this spot will always hold a special place in my heart because I think it saved them all. For the moderate rider, the Hustle & Flow trail, between markers six and seven, is such a thrill. A couple of times, we started at the unusually located trailhead behind The Lodge at Santa Fe for a dynamic and varied 1.5-hour loop. 
A little farther west along 599 toward Albuquerque is Marty Sanchez Links de Santa Fe, open through the winter, weather depending. Once a week, we played the nine-hole Great 28 course with rented clubs and carts and never tired of it, even when we didn't improve at the wholly frustrating game. Your kids will likely delight in finding ball after ball thought to be lost off the fairway. (I think ours found 30 in one day.) The pro shop folks couldn't be more welcoming, very excited for the business in the off season and to see young people on the course. We always made time for lunch at the tasty Links Bar & Grill, which has outdoor and indoor seating.
Off of Airport Road to the east, La Cieneguilla Petroglyphs are worth a trip, and winter is a great time because it's consistently cooler. Walk the gentle trails along basalt cliffs, where you will find petroglyphs, most of which were likely placed there between the 13th and 17th centuries.
Down the Turquoise Trail
We always found adventures down the Turquoise Trail a true day away from the ordinary. In particular, the five miles of trails in Cerrillos Hills State Park. The views of Sandia, Ortiz, Jemez and Sangre de Cristo mountain ranges are exciting, and equally so are the shuttered silver, copper, manganese, iron, galena and gold mines, all explained with interpretive signs. You must stop at the Casa Grande Trading Post and Cerrillos Turquoise Mining Museum and Petting Zoo (yes, a petting zoo), but be prepared for cries for the many touchable objects, including beautiful gems. With any luck the Black Bird Saloon will be open for lunch. 
Farther afield is a jaunt for perhaps a more sophisticated group and a little more planning: the Allan Houser Sculpture Park and Gallery Garden offers countless stories of the Chiricahua Apachean's life. The 70 outdoor sculptures are so imposing, and your tour guide has endless details. 
Rounding out your day at the Beer Creek Brewing Company is a fun and safe option. They have an excellent outdoor patio and a menu to suit all.
In town
Options for walks and bikes abound in town. A fave is the 17-ish-mile out-and-back Santa Fe Rail Trail, part asphalt and part dirt, that the whole family can enjoy with less-than-rugged mountain bikes. Ride or walk the length, along the Atchinson, Topeka and Santa Fe Railway, and you'll end up in Lamy, but you can turn around at any point. 
The Santa Fe River Trail is a flat, wide asphalt route that reaches Siler Road for the moment. If you start at Bicentennial / Alto Park, check out the pump track, where our kids used to roll when they were just learning, or make a stop at Frenchy's Field. 
The easy 1.3-mile loop around the Santa Fe Canyon Preserve is delightful and offers interpretive signs. Parking is very convenient. Depending on the weather, a picnic at the Randall Davey Audubon Center covered area called The Perch is really nice. You can loop to it and feel as though you are truly in the wilderness.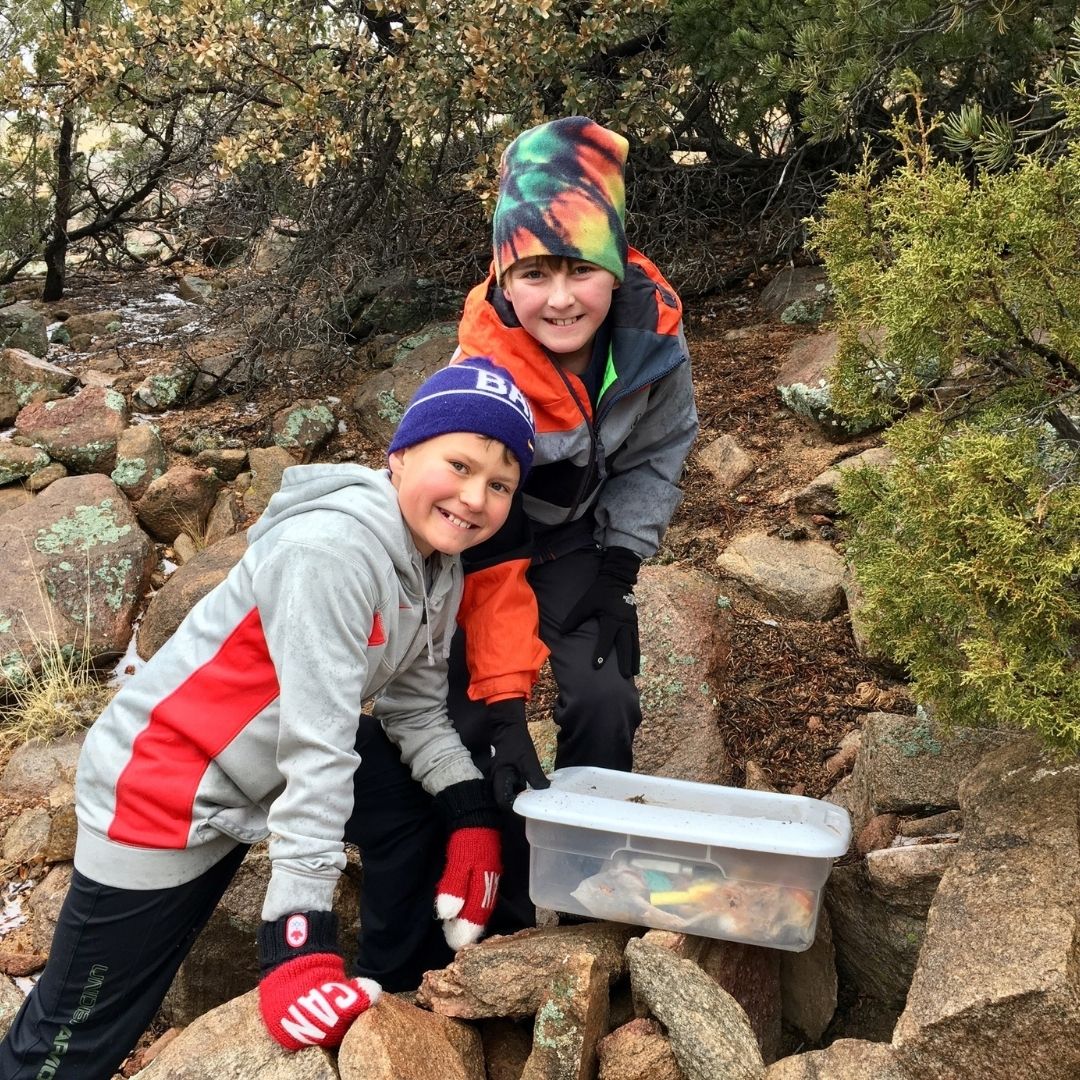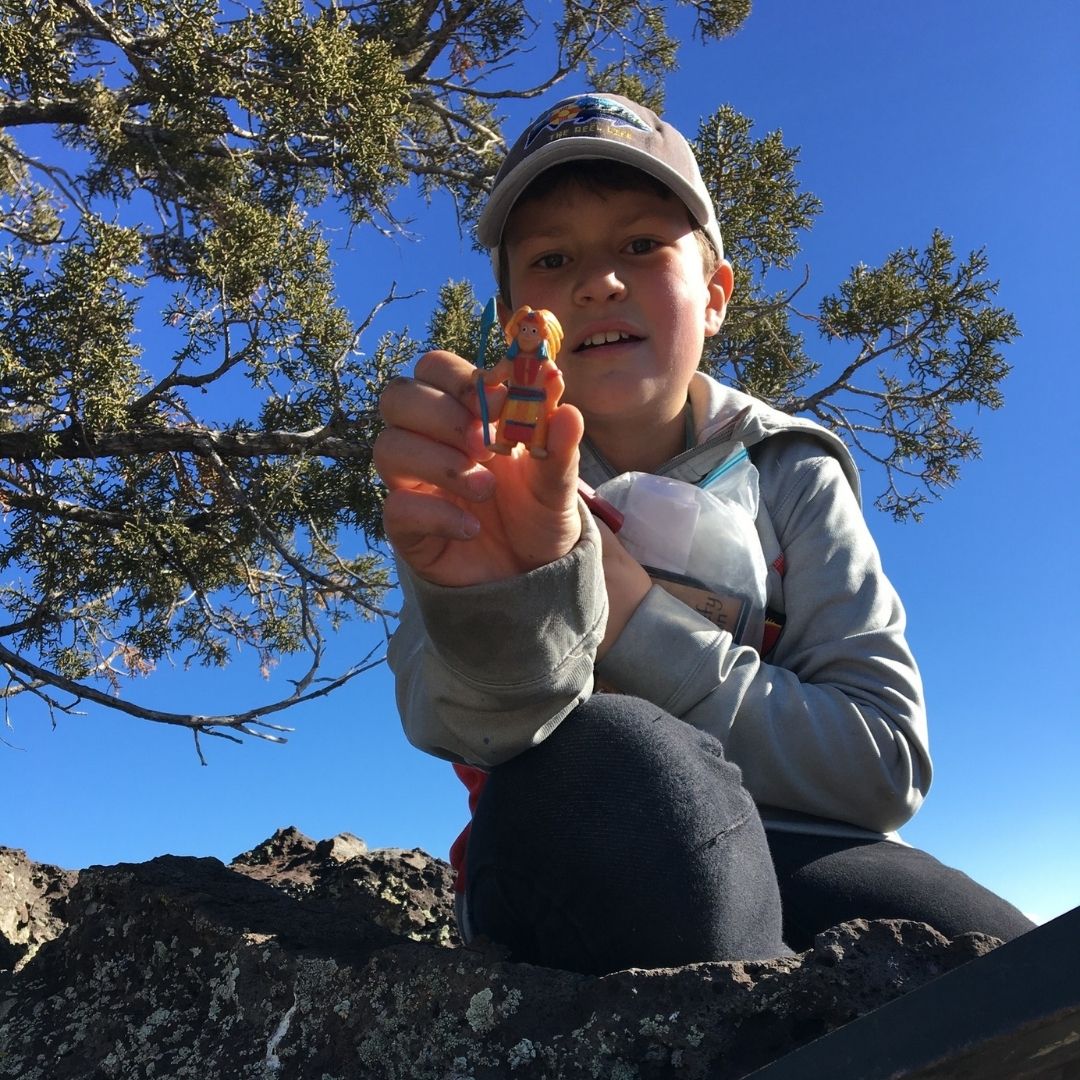 All over Santa Fe
My final recommendation is perhaps my strongest: treasure hunt! Discover a vast number and range of finds through the GPS-based Geocaching (geocaching.com) and clue-based Letterboxing (atlasquest.com). I can still hear the shrieks of joy when the kids would find a cache.

I hope these ideas launch you and yours into some safe and creative outdoor excursions this winter! 
Cullen Arlington Curtiss hails from the Boston area, however, she has explored this high-altitude hamlet with children for long enough to know a thing or two. She makes a living as a writer.