As you walk onto our playing fields and watch the Special Olympics athletes compete, you will see lives change right in front of your eyes — but don't be surprised if the life that changes the most is your own.
We invite everyone to be a part of the Special Olympics New Mexico sports organization and experience the wonderful and meaningful things people with intellectual disabilities bring to the world of sport and to our society as a whole.
Special Olympics New Mexico serves more than 3,700 children and adults challenged with intellectual disabilities, across 31 New Mexico counties. With the help of over 6,000 volunteers, these athletes train and compete year-round in 12 sports at six state competitions, gain access to inclusive health and education services, and participate in virtual health, wellness and fitness programming.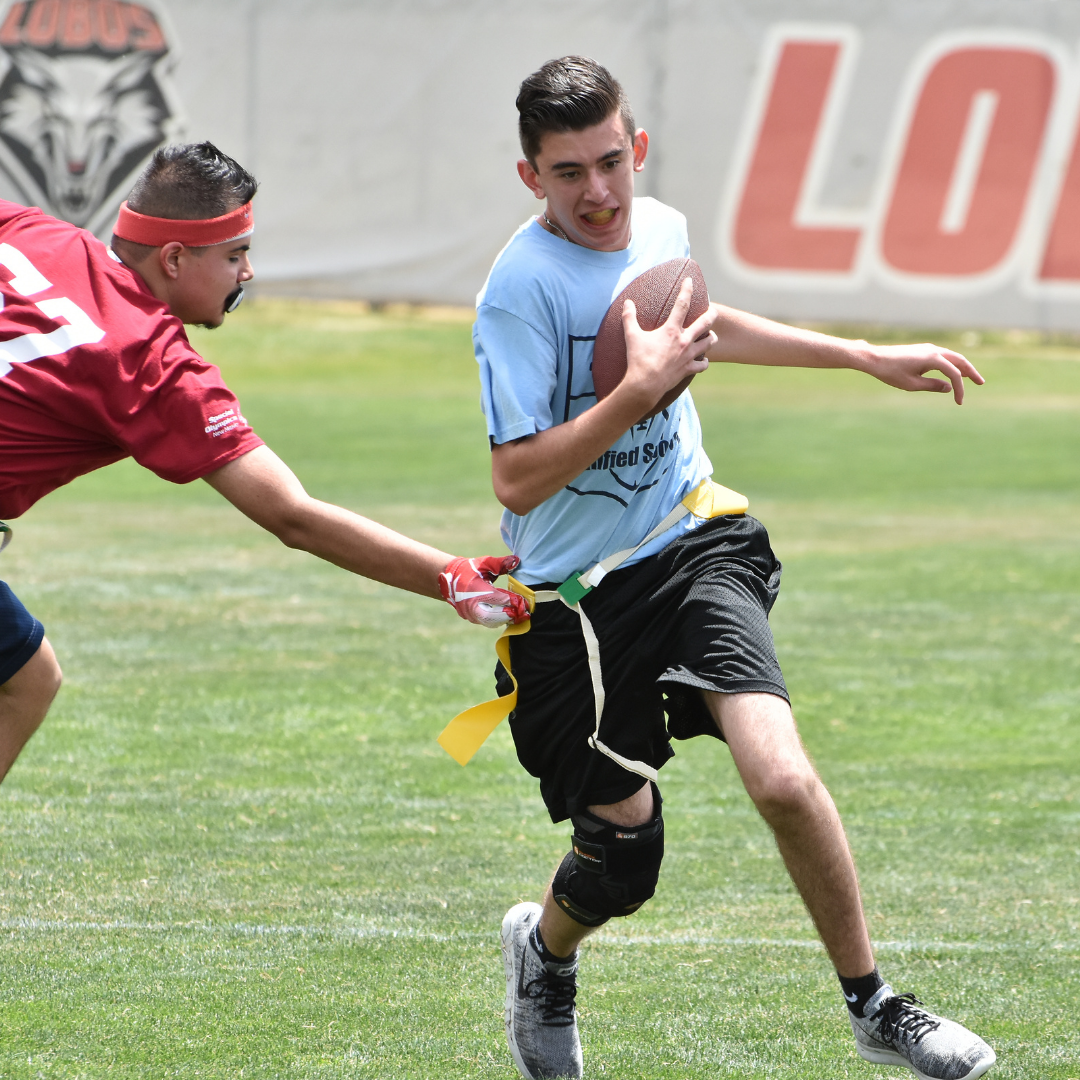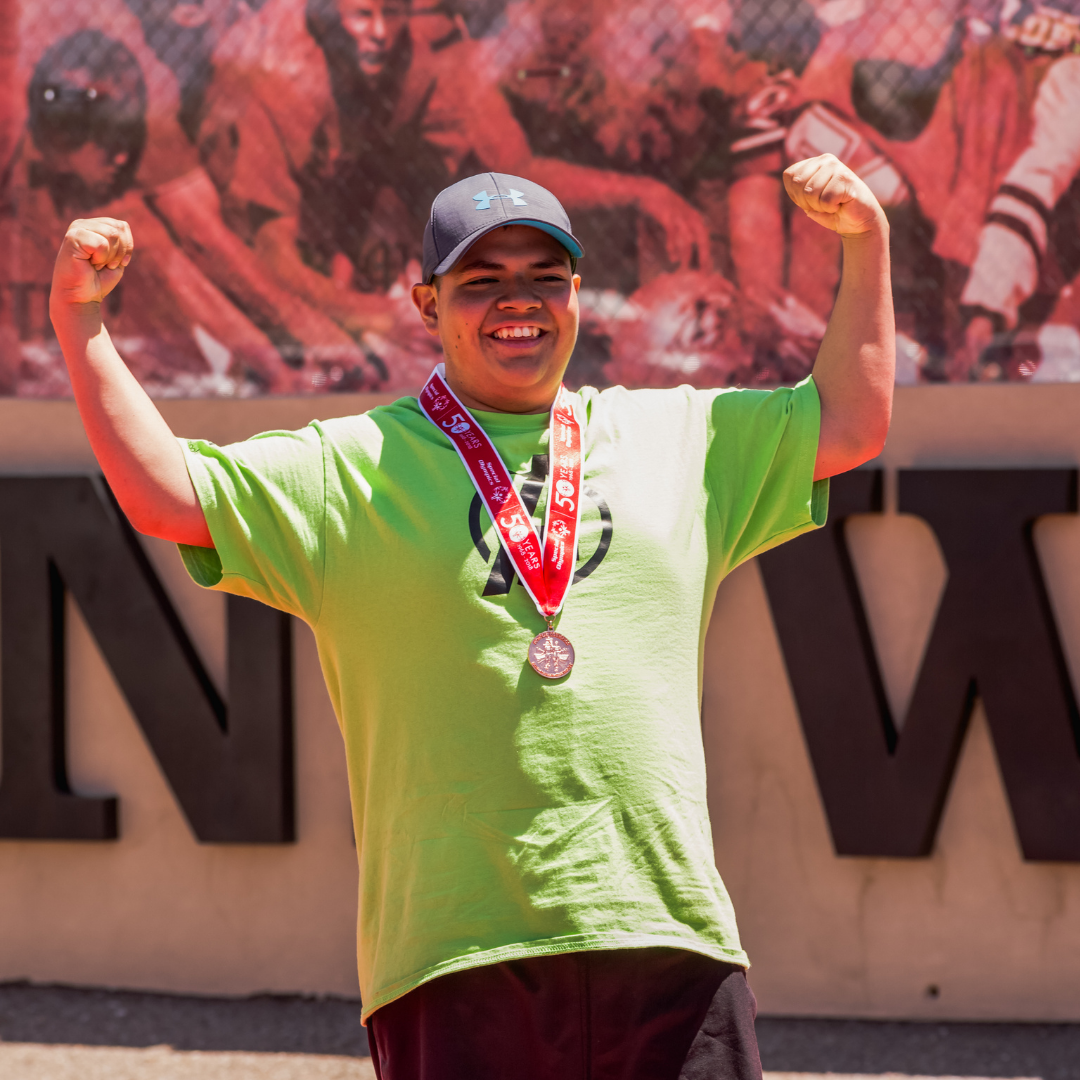 At every Special Olympics state competition, as part of the Opening Ceremonies, a Special Olympics athlete will light the Olympic cauldron signifying the official opening of the Games. The significance of that event lies in the torch that is used to light the cauldron, representing thousands of law enforcement officers who have carried that "Flame of Hope" across New Mexico. The Law Enforcement Torch Run is a national community-building organization, which here in New Mexico promotes and empowers law enforcement agencies to raise awareness and funds year-round for Special Olympics New Mexico.
During the COVID-19 pandemic, officers generated over $150,000 to support SONM's virtual competitions and fitness challenges. Historically, every May, officers carry the Special Olympics torch in a relay across 1,600 miles of New Mexico roads and highways, handing off the torch from community to community, culminating in a Final Leg Run into Albuquerque. Dozens of officers from various agencies run the torch into Opening Ceremonies of the Special Olympics State Summer Games, with over 1,000 athletes enthusiastically welcoming the officers as they run their victory lap around the track. The Opening Ceremonies then comes to an emotional end as an officer passes the torch to the Special Olympics Athlete of the Year, who lights the cauldron, beginning the Games. New Mexico law enforcement agencies provide encouragement, opportunity and hope to Special Olympics athletes and their families, creating a bond between athletes and officers that can't be broken.
Because people with intellectual disabilities have five times higher risk for diabetes and two times higher risk of developing heart disease, Special Olympics helps combat these conditions by keeping their athletes active and engaged. Throughout the pandemic, SONM's Athlete Health Messengers and the Health and Wellness Facebook Group have shared weekly health-focused activities. During pre-COVID years at two of its state competitions, the Special Olympics Healthy Athletes program provided free health screenings to its athletes, identifying unmet needs before they become emergencies. Volunteer health professionals, students and nonclinical volunteers provide screenings in the following areas: Opening Eyes (optometry), Special Smiles (dentistry), Fit Feet (podiatry), Fun Fitness (physical therapy) and Health Promotion (better health and well-being).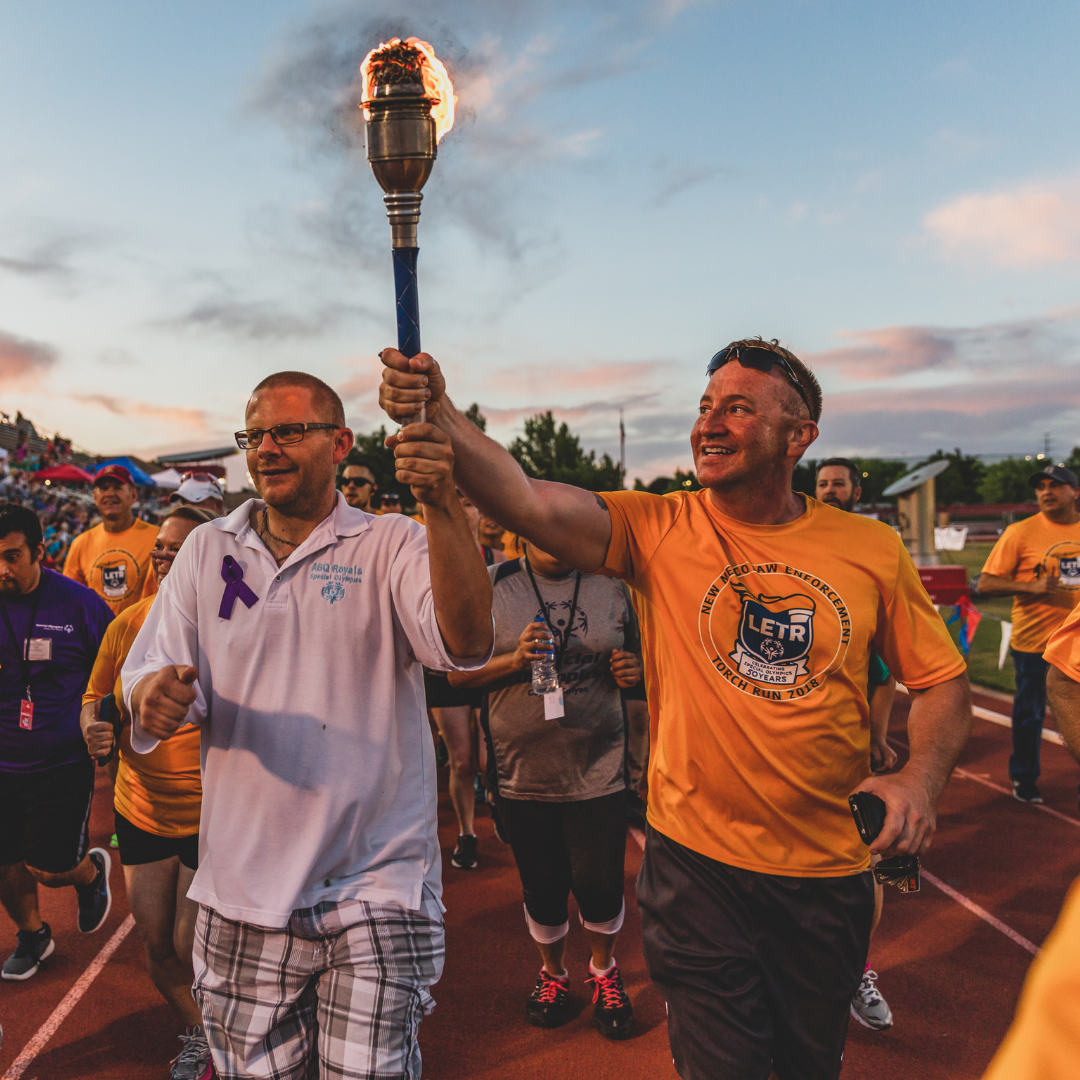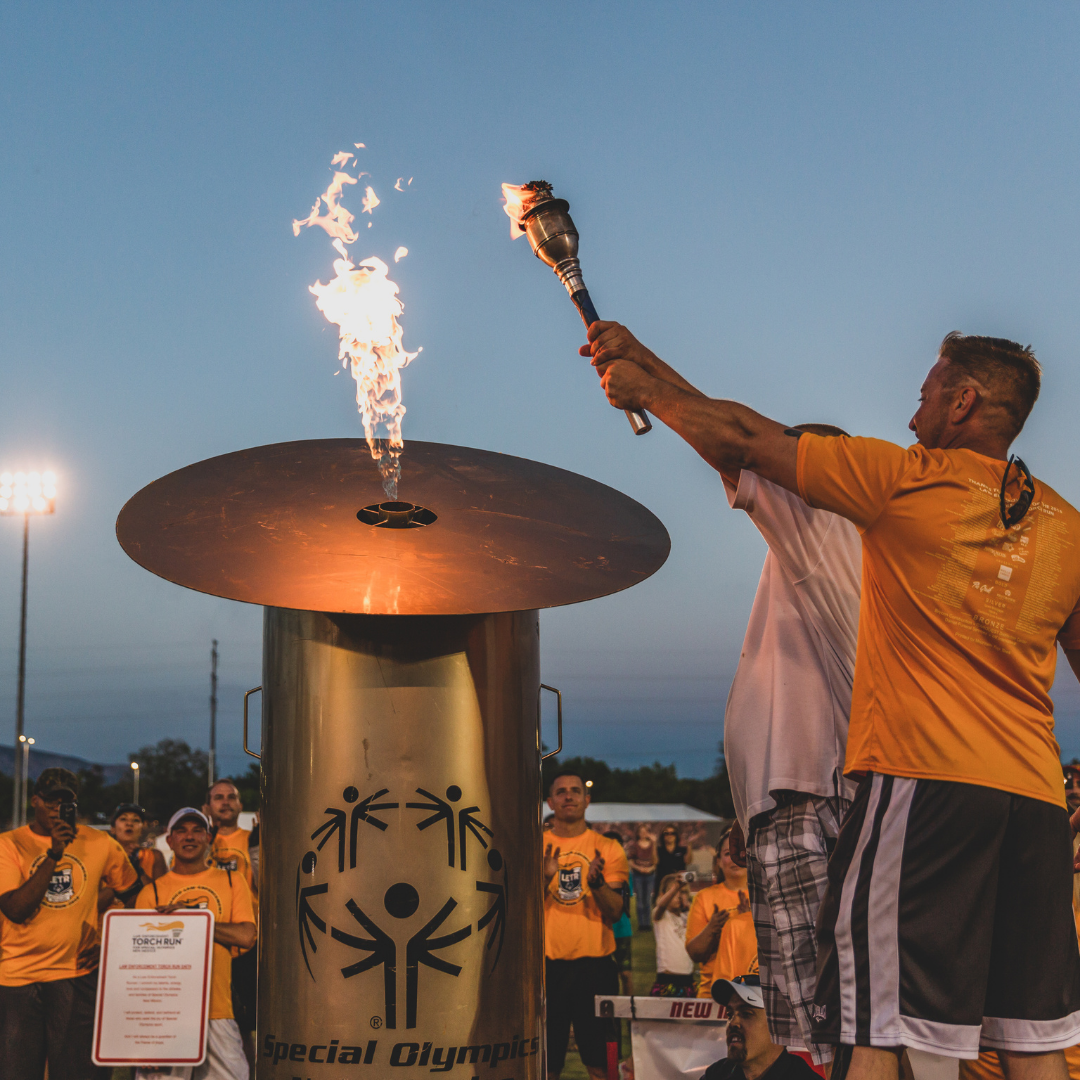 For most children and young adults challenged with special needs, going to school has rarely been a good experience. Most have been teased, bullied and excluded from those things that their non-disabled peers experience on a daily basis. Special Olympics Unified Champion Schools (UCS) is a strategy for schools (pre-K through university) that intentionally promotes meaningful social inclusion by bringing together students with and without intellectual disabilities to create accepting and friendlier school environments through three interconnected components: Special Olympics Unified Sports, inclusive youth leadership and whole school engagement. 
What is happening through the Special Olympics Unified Champion Schools program is not only incredible, but also historic. No generation before has succeeded in taking on the fear of difference and turning it into an environment of respect and inclusion. For years, educators have talked about changing attitudes and have tried to find strategies that work. One New Mexico educator says it best: "The Unified Champion Schools program doesn't care what color you are, what your cognitive or physical levels might be, what social class you gravitate towards or how many degrees you might have … everyone learns in a warm and positive way — a total win-win situation." 
The Unified program promotes social inclusion in our schools, ensuring that special education and general education students are equitably engaged. Teachers and students are encouraged to collaborate and create supportive classrooms, activities and opportunities. There are many outcomes to celebrate but perhaps the best are the friendships that are formed and often for the first time ever, special education students are able to feel that the school they attend is "their" school, too. This year there are 35 Unified Champion Schools in New Mexico, including Aspen Community School in Santa Fe.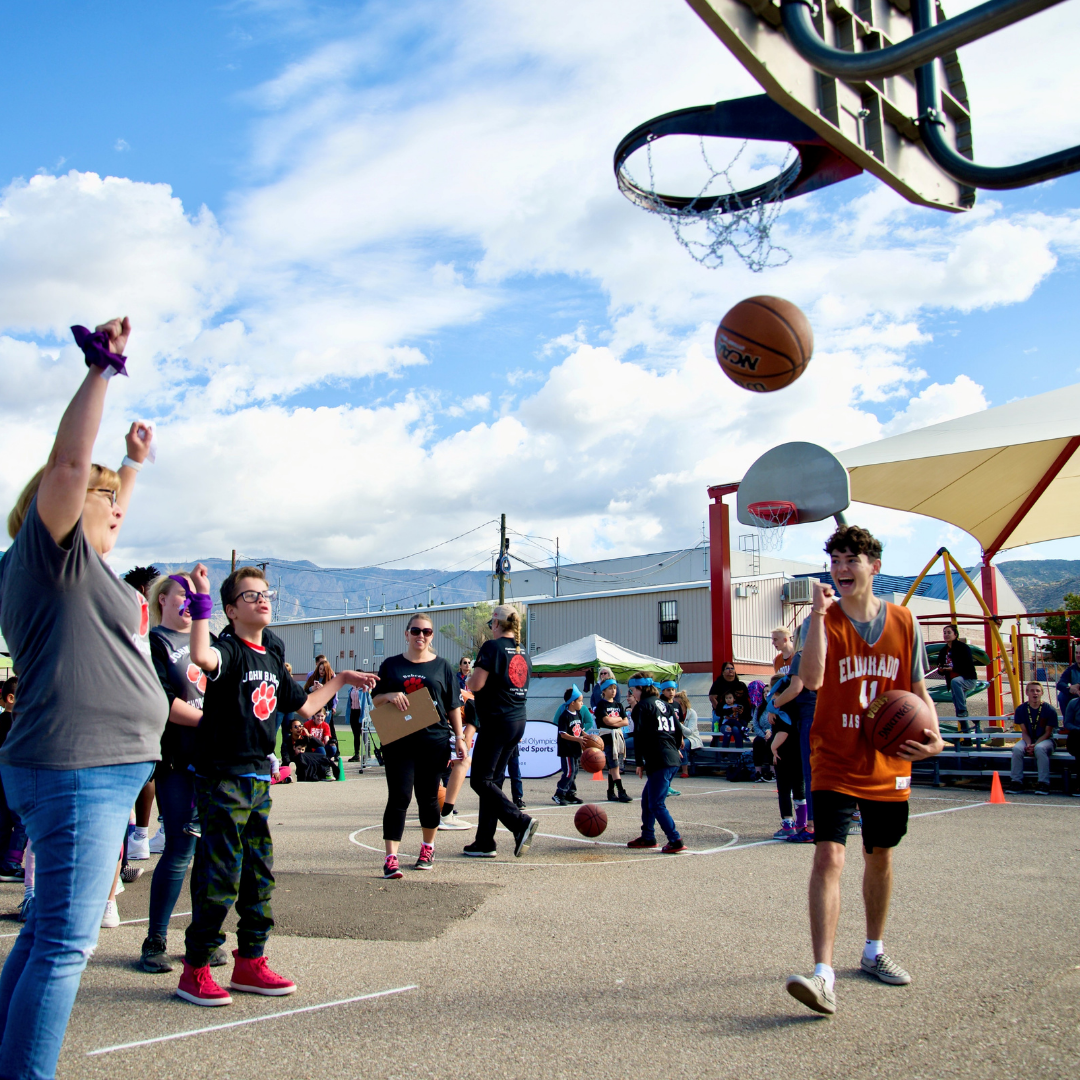 People often ask, "So when is the Special Olympics?" The answer to that question is, "All year long, as athletes train and compete in aquatics, athletics (track and field), basketball, bocce, bowling, equestrian, flag football, golf, poly hockey (hockey without ice and skates), rhythmic gymnastics, softball and volleyball." To wear a uniform, learn from a certified coach, be part of a team, travel out of town for tournaments, attend an Opening and Closing Ceremonies banquet, receive a Special Olympics medal presented by a law enforcement officer, hear family and friends cheering at the top of their lungs, party with other athletes at a Victory Dance — that's just some of what Special Olympics provides. Unlike many sports organizations today, the Special Olympics experience is often the best moments life has to offer its athletes.
To learn more about upcoming Special Olympics New Mexico events, and discover how to get involved as an athlete, coach, volunteer, donor or community partner, please visit our website or call (505) 856-0342.
Randy Mascorella, executive director of Special Olympics New Mexico, with Christian Woodard, a Team Santa Fe athlete for over 10 years who competes in bowling, poly hockey, basketball, softball, volleyball, track and field and virtual events.