Sword Fighting as Community Building
New Mexico Fencing Foundation provides a welcoming atmosphere to learn an ancient sport, but it's the people who make it so unique
By Lily Alexander
It wasn't the first time I walked into New Mexico Fencing Foundation that I knew it would be one of my favorite places. Rather, the realization came when my Thursday-afternoon classes there became as much of a comfort as collapsing onto the sofa after a long day at school. In fact, the first time I walked into the club—situated just off Cerrillos Road with an eye-catching red logo—I was so jittery with nerves I barely registered my surroundings. Now: the irregular buzz of fencers scoring points and the metallic clinking of weapons against each other sounds like catharsis. Every sports facility surely has a unique environment; NMFF has a feeling. It is something so specific it is hard to articulate. Parents of fencers, who can always be found mingling around a few tables downstairs, get pretty close to the action.
I asked a few fencing moms what they thought made NMFF so special, as their kids gulped down water post-practice in April. One, whose kid has been fencing for around three years, described the palpable camaraderie and unwavering welcoming atmosphere that encourages families to stick around. There was never any desire to look elsewhere once they found the club, she added. Another mom said fencing seems to suit people who dislike aspects of other sports, which may explain the triumphant sense of community. It is like everyone at the foundation has a certain pride that can only come from finally finding the perfect-fit activity. 
During these conversations, it dawned on me that even the situation I was in at that moment was special—the ability to waltz in on a random Monday and catch parents eagerly watching their kids in action. I thought back to my early childhood extracurriculars, the throngs of elementary-schoolers in pink tutus and hairspray-stiff ballet buns waiting to be picked up outside. At no other pursuit of mine have parents been so keen to stay and hang out during. Before I could drive, Thursdays meant my own mom would haul her laptop up the stairs to sit and work, pausing every so often to cheer or take photos.
I voiced my revelation to Rich Strittmatter, a coach at NMFF and longtime fencer. He explained fencing's particular family dedication, which stems from both the desire to see the inherently interesting sport happening and the traveling that comes with competitions. He also mentioned the handful of family members who fence together; NMFF boasts a family membership specifically for them. I am proud to say I am one: my 12-year-old brother, Conley, started fencing when I did in the summer of 2021. I think fencing can be partially credited with the retention of our positive relationship through my final year of high school. Every bout became a bonding activity we would discuss for hours after we left the club.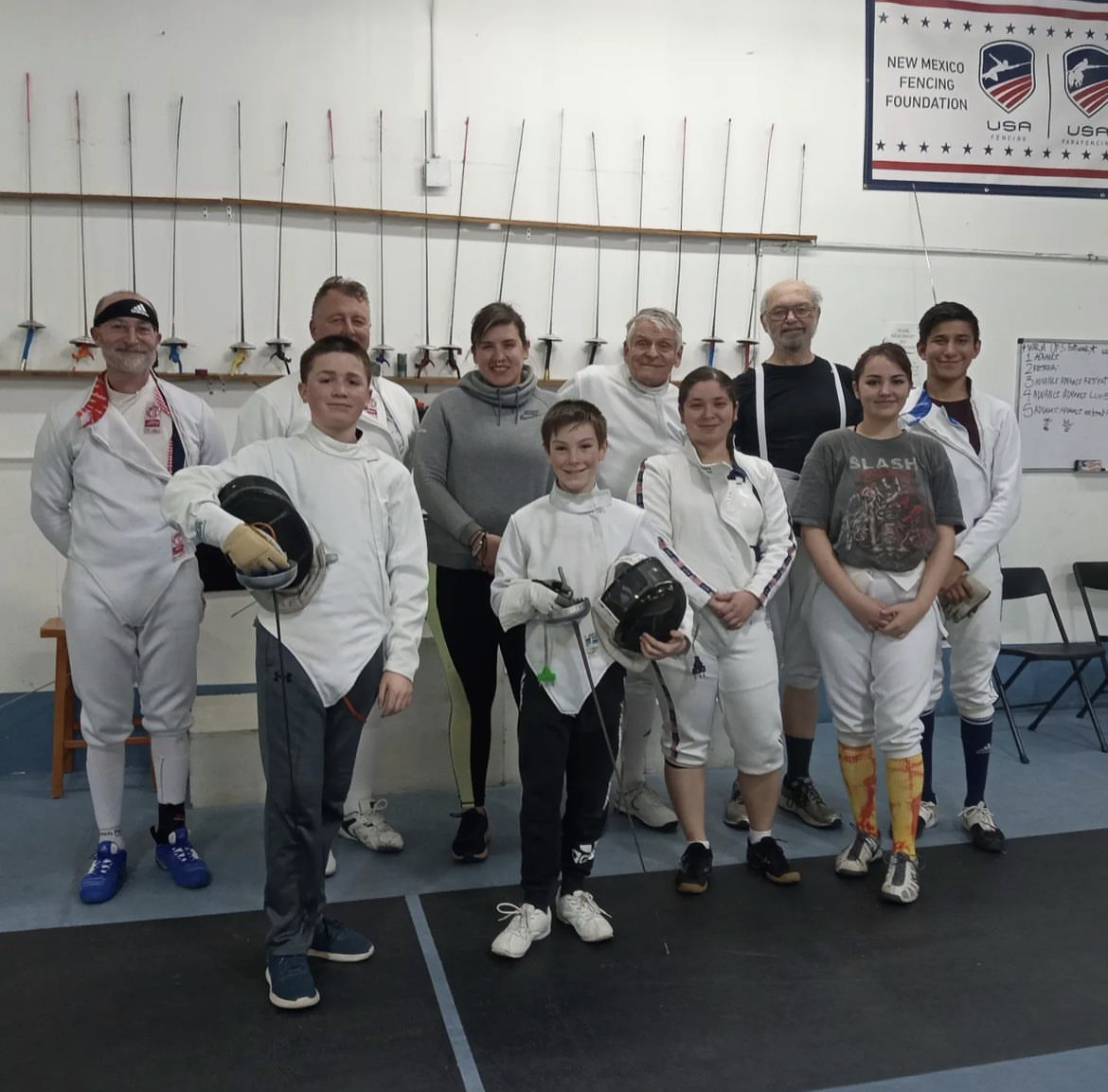 Though my brother and I are six years apart, we still rejoice in fencing each other. (And yes, there is something incredibly gratifying about stabbing your sibling with a flat-tipped sword.) Tournaments are separated into age categories, but bouting across generations happens regularly at NMFF. Open bouting four times a week sees young kids and older coaches engaged and enthusiastic. "Fencing is something you can do between eight and 80," Rich noted. He began his fencing career in 1967 at a local community center, and soon after Syracuse University's varsity team. Rich became acquainted with New Mexico Fencing Foundation in 2005 when he met James (Jamey) Odom. 
It is impossible to talk about NMFF without talking about Jamey, who sadly and unexpectedly passed away in April 2022. Jamey was—and I would argue still is—the driving force behind the club. He founded NMFF 20 years ago this year and was the head coach when I came to it. I speak for everyone who knew him when I say Jamey was the rarest sort of lovely person. He made the club feel like a home. He was full of jokes, of film references and recommendations, of signature fencing "rules" that regulars could utter in sync as he said them ("It's a mask, not a helmet!"). Conley and I insisted on bringing him his favorite Americano from Java Joe's every open-bouting Saturday. We made him a homemade card for Valentine's Day. He assembled an épée for me that I wield like a prized possession. I still hear him over my shoulder every time I step onto the strip and slip my mask over my face, giving me notes: "Stick your arm out." "Don't be afraid to attack." "You can get him." 
"It was about the fencer, not the fencing," Coach Rich said of Jamey's coaching. "It wasn't about the win, it was about the learning." Current head coach Jorge Chiquet maintains that philosophy, but also encourages fencers to work to win. Chiquet's coaching has historically taken teams to the Olympics. Since 2019, his daughter, Lil, has been coaching alongside him. 
Despite a bit of a language barrier, Lil and I spoke through a translator app about NMFF and its qualities. When I asked what she likes most about the foundation, she was quick to respond with "the people". There's a good family within the club, she said, and everyone is willing to listen and improve. It's a good place to work too, she added.
A young fencer described the foundation as akin to a social network, and I think in a way they were right. It is composed of coaches from all backgrounds who came to the sport in different ways, fencers of varying ages who bond over the toil of their math homework and compare fun-patterned socks, and families who fondly spectate and help kids who aren't their own into their uniforms. The club would not be the same without any of these categories of people. Everyone is integral.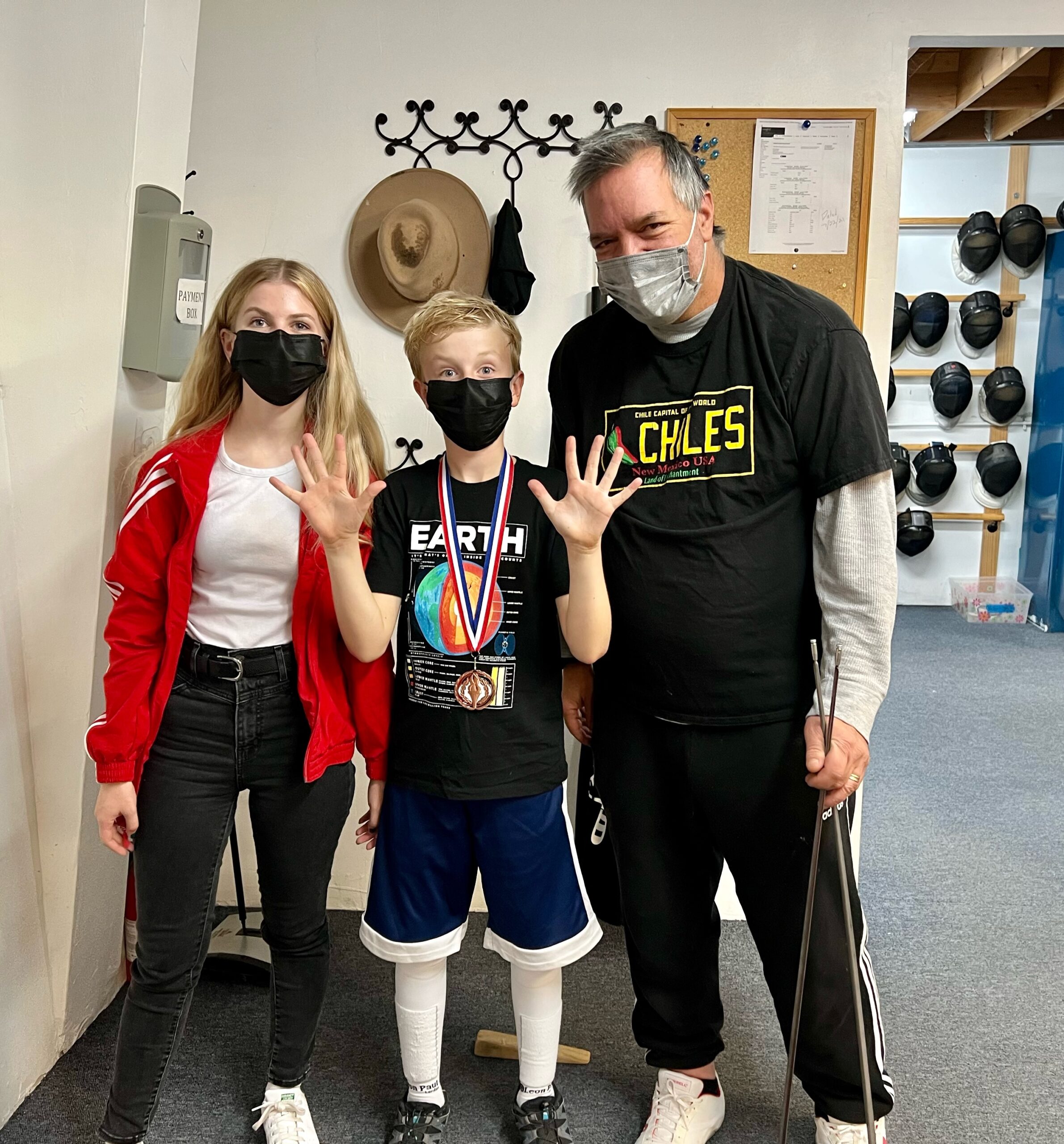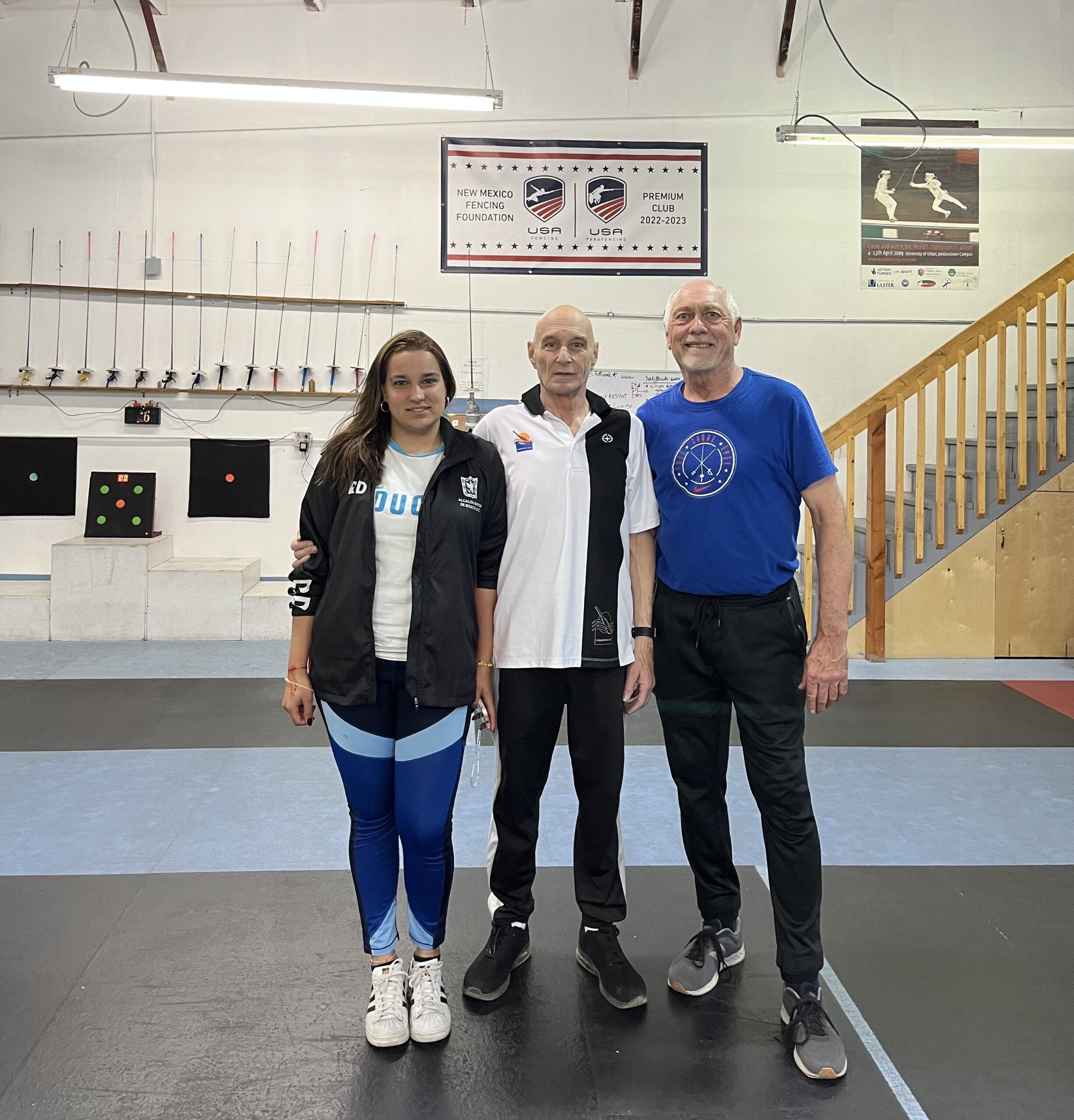 So I think I can articulate it like this: after I finished asking Rich my questions for this story, he excused himself to coach two young children that could not have been older than my brother. It was their second of two private lessons that new fencers are required to have before they join the beginner class. I lingered where the parents typically sit and closed my computer—an observer for the first time. A couple of the kids' friends or siblings were there to watch and Rich beckoned them to join in. I could not help my grin when he began animatedly explaining the three types of weapon, getting the jargon out of the way. He then retrieved several foam swords from the closet, switching to explaining the rules of a game. He passed the swords around. The kids expressed their excitement. It was humming in the air. I, an outsider then, wanted to play too. 
New Mexico Fencing Foundation is holding summer camps for kids and teens in June, July and August. For more information, visit nmfencing.org or email Rich Strittmatter at rstritt505@gmail.com. 
Lily Alexander moved to New Mexico from North Carolina in 2018. She loves sharing stories, especially about places and people that have impacted her life. She is currently a student at UNM pursuing a degree in multimedia journalism. She can be reached at lilymarinalexander@gmail.com.