20 Years of Serving Santa Fe's Youth with Excellence and Opportunity
First Serve New Mexico is celebrating a banner year with even more on the horizon.
By Karissa Martinez
In the heart of Santa Fe, a unique and vibrant organization is celebrating a year filled with milestones. First Serve New Mexico (FS-NM) is currently commemorating its 20th year as an organization, positively impacting the lives of children through education, life skills, and tennis at no cost to students or their families. From academic tutoring to tennis instruction and beyond, FS-NM has evolved into a nationally recognized beacon for empowering youths. In the past 20 years, more than 1,500 students in grades 3–12 from 25 different schools in the Santa Fe area have participated in the life-changing experiences that the program offers. Today, FS-NM has more than 100 active participants, and the opportunities for them keep growing. Last month the organization broke ground on a state-of-the-art tennis and learning campus that the students will soon call home.

FS-NM was founded by Eleanor and Richard Brenner in 2003. The Brenners had a deep love for the city and a desire to give something back to the community.  Eleanor, a former fashion designer, applied her meticulous eye to the organization and worked tirelessly as director and board president to improve the quality of the program. Eleanor's vision was not simply to provide free tennis lessons to kids, but to drastically change their lives by exposing them to new opportunities and experiences. On April 2, 2023, Eleanor lost her battle with cancer, leaving behind an incredible legacy and an outstanding after school and summer program that will continue its mission of service to the youth of Santa Fe. Prior to her passing, Eleanor appointed her trusted confidant, Angelique Cook-Lowry, as the new board president to oversee the organization. Angelique, along with a dedicated team of FS-NM staff members, will continue this great work, leading and innovating the program for the next generation of First Serve students.
The organization has evolved since its inception. Initially, it started off small with about 12 students at two schools. In the early years, the program grew incrementally, slowly expanding its reach to new school sites and adapting its model to meet student needs. At present, the program offers academic support in all subject areas, specializing in reading comprehension, math, financial literacy, etiquette, and interpersonal skills, in addition to intensive tennis training. The combination of these skills ensure that students develop into responsible and confident individuals. Although many recognize First Serve for their outstanding tennis players, it is really the education and life skills that are the heart of the organization's mission. While FS-NM is certainly proud of its championship level players, what is of the utmost importance is the quality of character they develop along the way.  
FS-NM staff, tutors, teachers, and coaches are all committed to expanding children's sense of possibility and inspiring them to strive for excellence in all areas of their lives. Thus, First Serve is not a "drop-in" program that kids come and go from, students make a commitment to attend, participate, and put forth their best efforts for a period of one full school year. FS-NM prides itself on educating the whole child for the whole year: academically, socially, emotionally, and physically.
The mission does not stop during the summer months either, FS-NM keeps kids engaged when school is out. The program has historically offered an eight-week tennis intensive summer camp exclusively to its members, that is all students who completed the program in good standing during the previous school year. For the first time, in summer 2022, FS-NM allowed nonmembers to join the summer camp for two weeks. This trial period gave more kids the opportunity to experience the sport of tennis and the magic of First Serve. By opening up the camp to new prospective students, FS-NM has dramatically expanded its community impact. This summer alone, more than 200 students attended the First Serve summer program.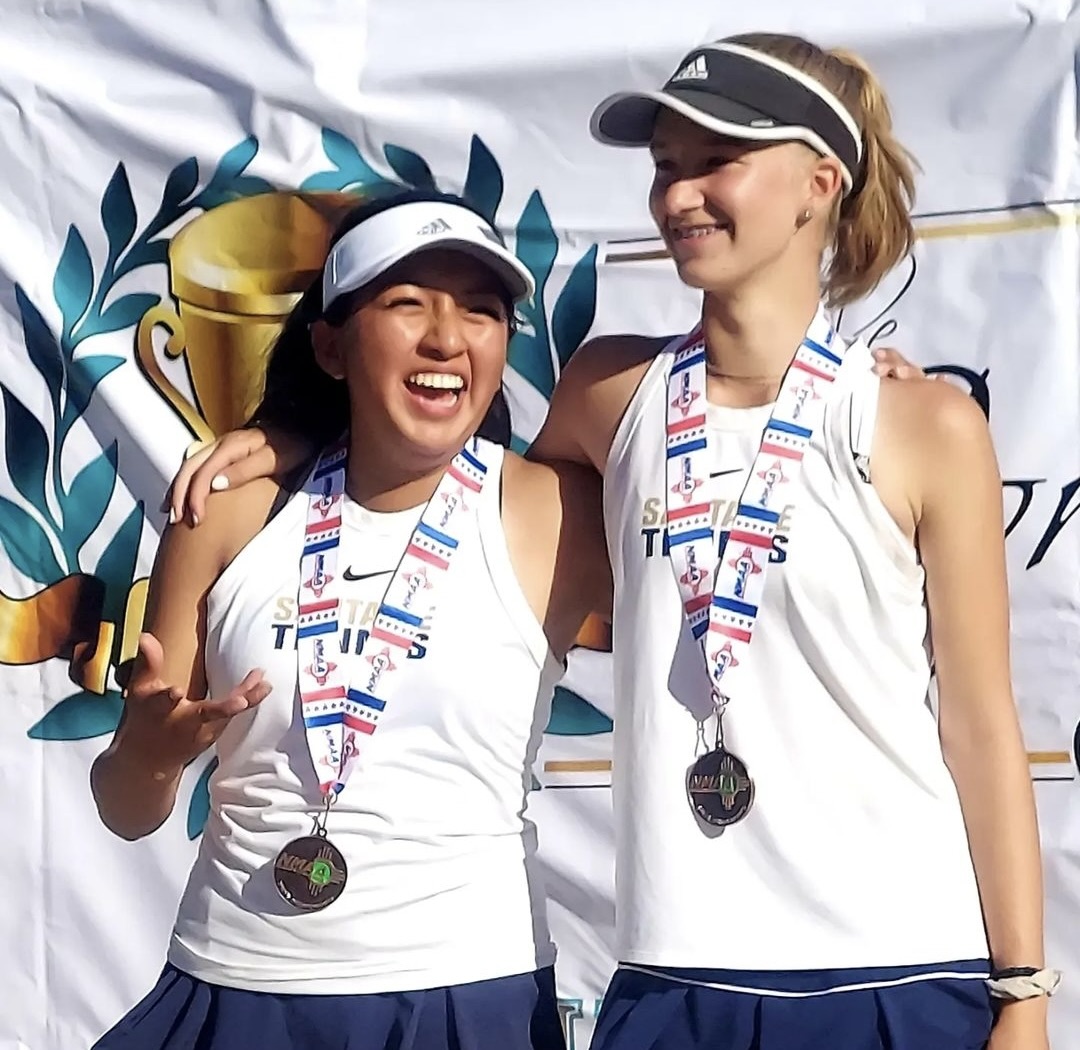 A true testament to the First Serve New Mexico model is the huge milestone they achieved by winning the USTA (United States Tennis Association)/NJTL (National Junior Tennis & Learning) Chapter of the Year award for 2022–23. Out of 270 NJTL chapters around the country, FS-NM was selected for its high-quality programming, consistency, and adaptability both on the court and in the classroom. It's worth noting that First Serve was one of very few after-school programs that continued to offer services during the pandemic. FS-NM offered both online tutoring sessions and small group tennis lessons and expanded the program during a time when many other children's programs closed or stopped.
In the fall of 2022, FS-NM hit another outstanding milestone by taking seven top high school athletes to the USTA National Tournament in Florida to compete amongst the greatest young tennis players in the country. Some of these student athletes have been a part of FS-NM since elementary school and are growing into role models for other students in the program. The next generation of First Serve students have even more to look forward to with the upcoming opening of our campus in 2024.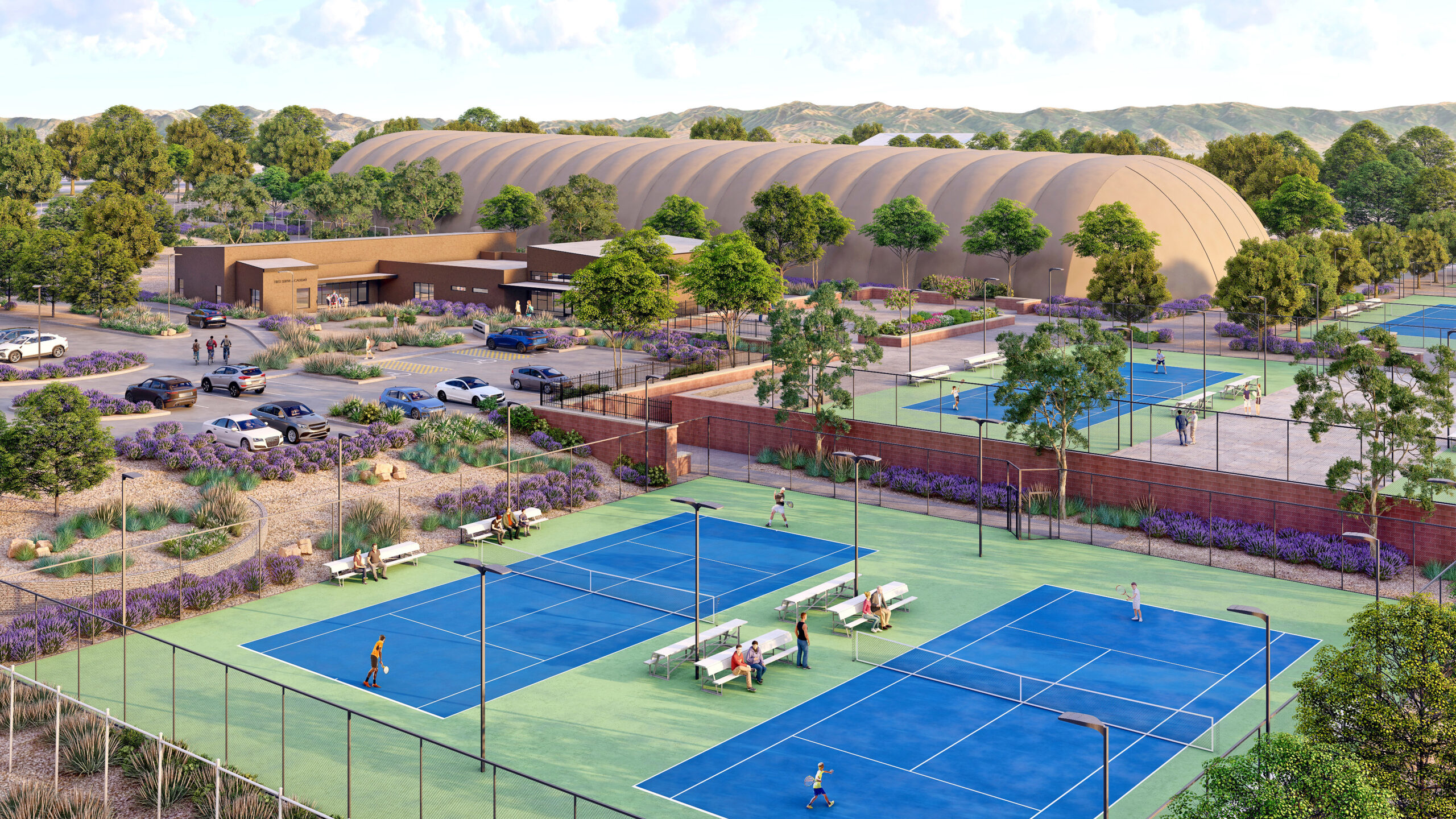 Thanks to an incredible partnership with philanthropists, Scott and Kimberley Sheffield, who are funding this project, the creation of the First Serve New Mexico and Forked Lightning Racquet Club will change the face of tennis in Santa Fe for years to come. As FS-NM continues to innovate and expand its reach, this new development will serve as a hub for both First Serve students and the broader Santa Fe community.  FS-NM will continue to offer its outstanding program at the new site, while people of the local community will be able to join Forked Lightning Racquet Club as members. The facility, currently under construction, will boast 12 tennis courts, 10 Pickleball courts, 3,000-plus square feet of classroom space, and more!
First Serve New Mexico is more than a tennis program; it is a catalyst for positive change, nurturing the youth of Santa Fe to become accomplished athletes, scholars, and citizens. With 20 years of committed service and a vision for continued growth, FS-NM exemplifies the power of community, sport, and education working hand-in-hand.  As FS-NM embarks on its next phase, the energy and passion fueling this organization are palpable. The plans for 2023 and beyond are a clear indication that FS-NM will continue to serve, inspire, and transform the lives of Santa Fe's youth for many years to come.
For more information about First Serve New Mexico, visit firstservenewmexico.org or email info@firstservenewmexico.org.
Karissa Martinez is the executive coordinator of First Serve New Mexico, a 501c3 nonprofit organization dedicated to helping children in Santa Fe. She brings a diverse background in communications, human resources, and business consulting to the organization and is passionate about making a difference in her community.