Expanding Produce Prescription Programs for Santa Fe Families
Food as medicine programs connect patients to healthy food.
By Carrie Thielen
Every Thursday afternoon at Presbyterian Santa Fe Medical Center, families pick up a variety of fresh produce and recipes at the weekly food site. In the produce bag this week: carrots, squash, peaches, tomatoes, corn, tortillas, cucumbers, and kale, and recipes on how to use the produce in the bag. A parent who stops by every week shares that her son, who is typically a picky eater, is trying new food. "It is refreshing to get exposure to new foods. The program has helped us incorporate healthy food into our daily routine."
Northern Roots is a produce prescription program for patients who could benefit from access to healthy produce in Santa Fe and Española. Northern Roots provides 16 weeks of fresh fruits and vegetables, nutrition education, and connections to local food resources and nutrition assistance programs. The program focuses on pregnant women and families with children referred by their Presbyterian healthcare provider or a community health worker.

Since the start of the program in April 2021, Northern Roots has reached more than 400 participants. In surveys, 90% of participants said Northern Roots increased their ability to provide healthy food for their family and 100% would recommend the program. A grandmother raising her 16-month-old and 6-year-old grandchildren said she appreciates the mix of fruits and vegetables she gets each week, including things she wouldn't normally buy like chard and kale. Her younger grandson loves the fruit they receive each week, she said. Since participating in the program, this grandmother is now spreading the word among other grandparents raising grandkids.
Food prescription programs, also called food as medicine programs, enhance clinical care by helping to remove financial barriers to purchasing fresh produce, increasing fruit and vegetable consumption, lowering blood pressure and risk of heart disease, and improving food security. Food as medicine programs are being implemented nationwide to address the connection between nutrition and the prevention and management of diet-related illness in the healthcare setting. Early research of food as medicine programs demonstrates lower healthcare costs and increased engagement in preventative clinical care.
It is well established that medical care is estimated to account for 10 to 20% of modifiable contributors that impact an individual's health, with the other 80% related to social factors (like access to food), and the physical environment (like availability of safe walking paths). In 2021, Presbyterian began universal screening of all Presbyterian patients for health-related social needs that include questions on whether they are experiencing food insecurity, lack of transportation, and other social needs. Identifying food insecurity can help providers better tailor care plans to a patient's needs. Patients who screen positive for food insecurity are then connected to food resources like federal nutrition assistance programs as well as local food banks and pantries, as well produce prescription programs, like Northern Roots.
Lack of access to affordable fresh produce is a reality for many New Mexicans. In New Mexico, our overall rate of food insecurity is 12.9 %, and we have the highest rate of childhood hunger in the nation, according to Feeding America. Nearly 30% of New Mexicans live in what is called a food desert, which indicates a longer distance to the nearest grocery store and limited access to affordable healthy food. Presbyterian partners with MoGro, a nonprofit mobile grocery project, to source and deliver local and fresh produce year-round. Produce prescriptions are an opportunity for anchor institutions, such as hospitals, to invest in the local food economy by purchasing directly from local farmers and food retailers.

In addition to the weekly produce, Presbyterian partners with local community organizations to provide resources to support nutrition, cooking skills and community resources. Local organization Cooking with Kids offers monthly food demos at the hospital food sites or Santa Fe Farmers' Market Del Sur during the summer months to provide hands-on nutrition education for the entire family. On food demo days, kids are lined up at the table chopping fresh basil for a pesto recipe or assembling a mango salsa.  Research shows that when kids help prepare healthy foods, they are more likely to try and eat them.
"Providing fun, hands-on experiences with delicious, fresh food is such a great way for kids and families to get excited about healthy eating. Our partnership with Presbyterian lets us reach more folks in our communities and support our local growers," said Anna Farrier, executive director of cooking with kids.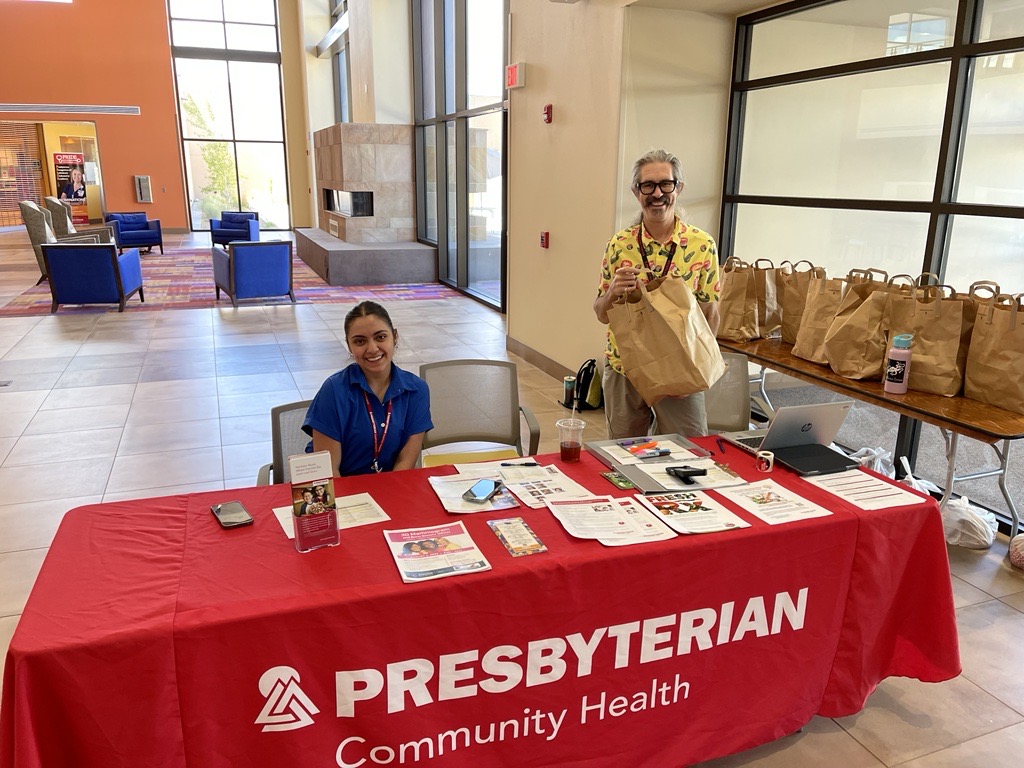 Much of Northern Roots' success is thanks to a hands-on approach from Community Health Workers, which coordinates the program. Community Health Workers is a trusted member in the community, with staff trained in basic health education and provide connections to local resources. In addition to providing referrals to food programs, such as Women Infants Children (WIC), local food banks, school nutrition programs, and the Supplemental Nutrition Assistance Program (SNAP), we are expanding the reach of those referrals to perinatal supports, parenting resources, and home visiting programs in Northern New Mexico.
Alice Guerra, the community health worker located at Presbyterian Espanola Hospital, stated, "I love engaging with the kids and parents involved with the program while connecting them to resources they didn't know about and encouraging them to incorporate more fruits and vegetables into family meals and snacks."
We are excited to continue to expand food prescriptions programs to reach more community members. We continue to adapt our programs based on patient feedback and understanding of the barriers to accessing healthy food unique to each community. As a health system, we know that food is medicine, and that people cannot be healthy without access to healthy food. It requires a coordinated response from many community organizations, with hospitals playing an important role in the effort.
Carrie Thielen is a registered dietitian and the director of regional community health  for Presbyterian Healthcare Services.