As I reflect on springtime in northern New Mexico, the uncertainty of the weather always comes to mind. The skiers and snowboarders out there dream of those last March snow days and fresh powder. Some of us can't wait to get started on that spring planting, but we get nervous about a possible late freeze. Some areas in northern New Mexico get super muddy and slushy as the snow begins to melt, postponing that deep post-winter car cleaning. April and May bring the winds and a little warmth, but we still need to wear those layers for chilling mornings and evenings. My husband has a little saying about New Mexico weather: "If you don't like the weather, just wait 15 minutes." 
Tumbleweeds Magazine's spring cover photo shows how fickle New Mexico's weather can be. Our plan was to do a photoshoot with brothers Jasper (age 7) and Mateo (age 9) Ciano at Reunity Resources doing spring planting in their greenhouse, and a snowstorm whipped through New Mexico without much notice. While the snowstorm created a beautiful white background, it wasn't quite the look we were initially imagining for a spring cover. Mother Nature does as she wills, and we find a way to roll with it, day to day.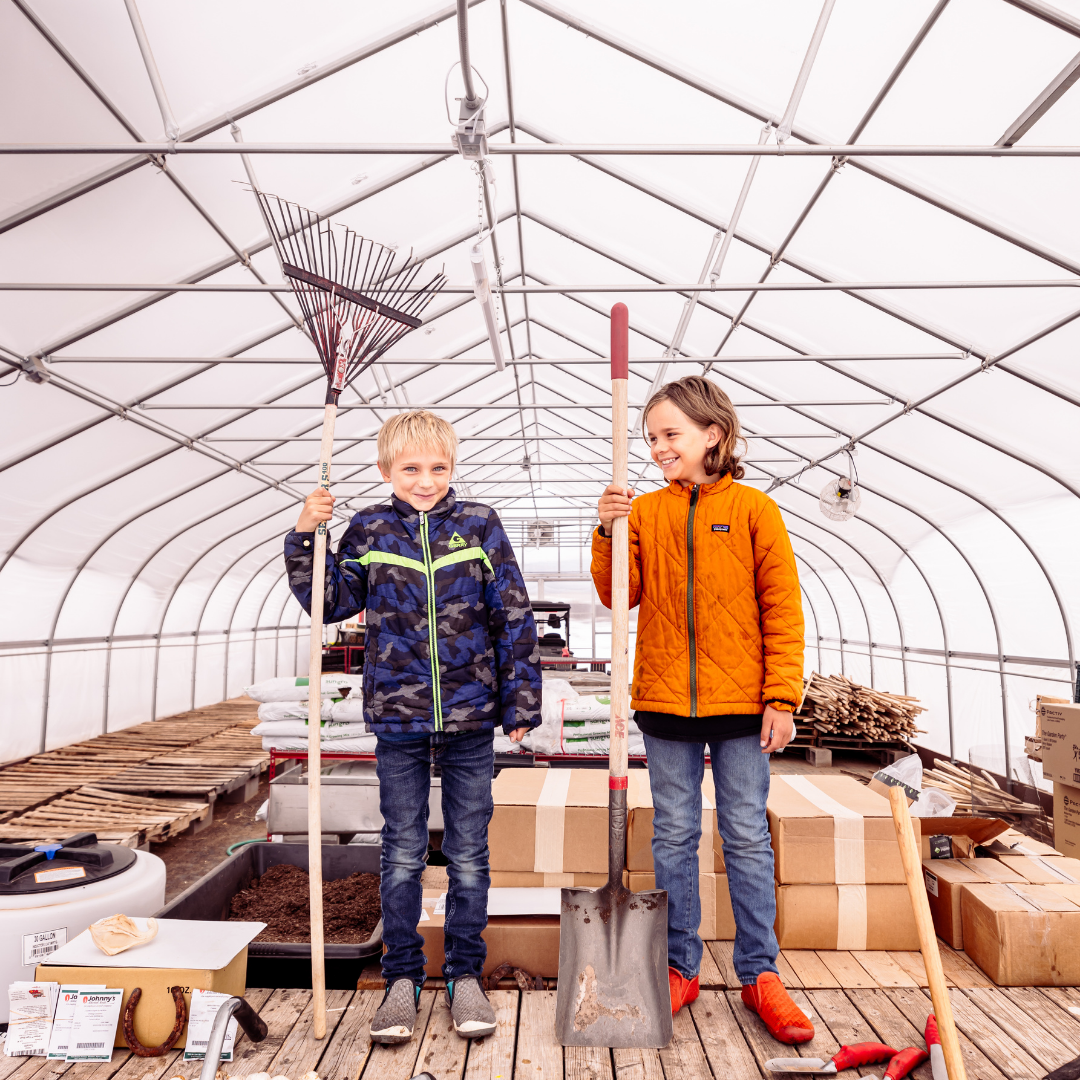 The pandemic has also brought some uncertainty, and we are all managing the best we can, day to day. The Spring 2022 issue includes articles that really touch on the challenges of uncertainty and how parents, teachers and community leaders try their absolute best during impossible circumstances. 
As parents, we wake up every day not sure if our child's school or childcare program will be canceled due to a COVID-19 outbreak or a shortage of teachers. Our minds twist and turn worrying when we hear that ding notifying us that an email from the school is in our inbox. Was my family exposed? Did we expose others? Where do I find a test? What is the latest guidance from the CDC? What do I do about my job when school is canceled? Balancing our personal lives with school and work is especially difficult right now. One of this issue's contributing writers, Giovanna Rossi, shares her labor of love, Family Friendly New Mexico, with our readers in her article titled, "Finding the Work/Life Balance is a Community Affair."
Some of our favorite family-friendly businesses can't find enough workers to run their programs and services at full capacity. And some businesses decided to close temporarily for deep cleanings, as the Santa Fe Children's Museum did in February. My family is constantly checking different businesses to see if their hours changed and hoping they can fit us in. Program and service disruptions can be especially difficult for families who have children with special needs. Randy Mascorella, executive director of Special Olympics New Mexico, shares how their services support a vulnerable population during the most challenging of times; see this page. And many of us are wondering what we can expect for spring and summer camps. Fortunately, Tumbleweeds Magazine figured this out for you; see this page for our camp roundup. 
Then, there is that little problem called inflation. Inflation is squeezing our family budgets. Gas is up. Groceries are up. Eating out costs more. We already had an affordable housing problem pre-pandemic, and now it's really challenging. 
And many of us get spooked, understandably, every time we hear of a new variant: Delta, Omicron, Omicron subvariant (BA.2). Is it here in New Mexico yet? How does the vaccine hold up? Which is more contagious? My family keeps the Department of Health's hotline (1-855-600-3453) handy to answer those tricky questions. It may also be helpful to know that the Department of Health has Public Health Offices throughout the state that provide health and nutritional services (nmhealth.org).
Trying to create a normal routine for our kids and ourselves when things are not yet normal can be exhausting. We all want to know when … when will this be over … really over and back to normal!
I wish I could answer this question because I am tired of the uncertainty, too. What I did not realize until recently though is that I was allowing the uncertainty to influence my health and wellness. Trying to make the wisest decisions for our family when there are so many unanswered questions can be paralyzing. The uncertainty was robbing me of my focus, my energy and my time. I decided to shift my perspective and be intentional about celebrating life, enjoying my family and recognizing some of the good that has come out of the pandemic. 
In January, we celebrated my daughter, Aviva's, second birthday. We decorated our house with her favorite animal, flamingos, and shared a yummy cake from Chocolate Maven with both sets of grandparents. We toured some preschools with our son, Ryker, in anticipation of starting an exciting new chapter this fall. My husband, Justin, and I made date night a priority, even if it was just a quick pizza at Il Vicino. I scheduled long lunches with my mom. And I decided it was time to start the process to adopt a new dog, which inspired this issue's Book Nook, "Critter Reading." (After 13 years, we lost our sweet Bambi Sue last year.) 
As we roll into spring 2022, it marks two years of living with COVID-19. But let's remember that we have much to celebrate and to be proud of. Despite the fatigue and despite the uncertainty, our community is shaping a legacy for our children. Future generations will read about the pandemic and learn how our community, our state, stepped up to the plate. When virtual school became a necessity, David Gunter and Sonya Gunter founded the Community Desk Project that funded personal learning spaces in homes, read here. Our teachers demonstrated incredible resilience and innovation. In this issue, a teacher's perspective is shared by T. J. Bonzon; read his story "Teaching Through the Pandemic." When our schools needed help, retirees, government workers and our national guard started welcoming students in the classroom. The city of Santa Fe opened applications for several affordable housing developments this February. Businesses found innovative ways to keep their doors open and provide services. Our community continues to step up and come together, regardless of what Mother Nature brings our way. 
Despite these uncertain times, Tumbleweeds Magazine is committed to sharing resources and local stories about the things you need as parents and grandparents. I am so grateful that we are continuing Claudette Sutton's legacy of Tumbleweeds Magazine for New Mexico families. A special thanks to our story contributors for passionately sharing their experiences with our readers and to our advertisers for making Tumbleweeds Magazine viable and accessible to our community. We are in this together.